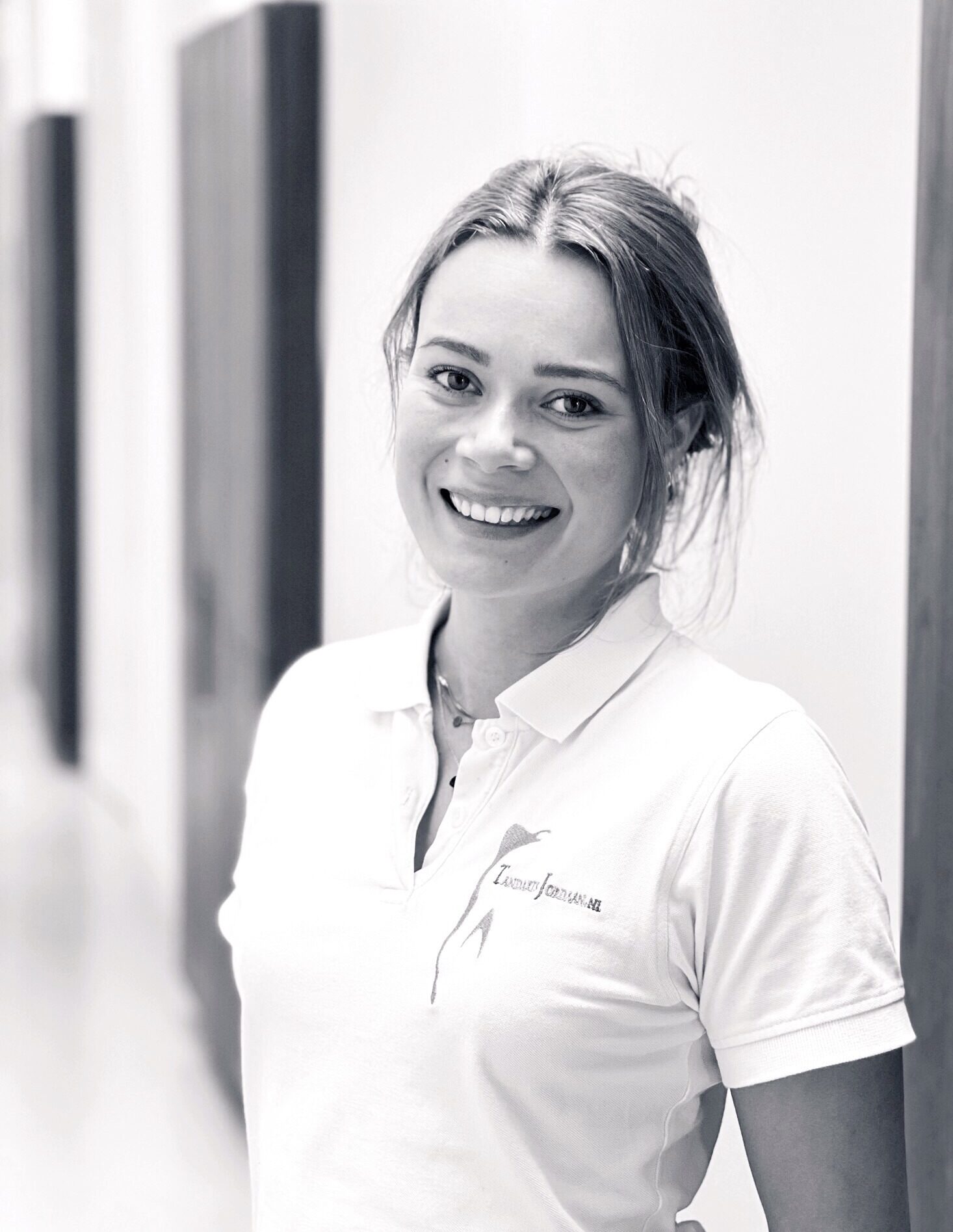 You studied dental hygiene, where did you study?
I received my BSc in Dental Hygiene from the Hanzehogeschool in Groningen.
Why did you choose to study dental hygiene? And what did you think of the course?
I once fell and damaged my front teeth. During the treatment which I needed afterwards I discovered that I found the world of dentistry really interesting!
What makes working at Tandarts Jordaan as a dental hygienist so appealing?
We're a really close-knit team here at Tandarts Jordaan and there are also lots of different specialists working here. That makes it very easy to discuss cases with each other, which is a wonderful learning opportunity for me.
Can you still remember your first dentist? What were they like? 
I had two dentists as a child. The first was a little older and more heavy-handed in their work. My second dentist eventually took over the practice from the first and you could immediately notice the difference in their way of working. 
Did you like going to the dentist?
I never minded going to the dentist. Most of the time the regular check-ups were lightning visits. Only the treatment to fix my front teeth took a long time but in the end I just found that really interesting!
Do you really clean your  teeth every day in the way that we advise our patients to?
Once I started my course I did indeed begin using an electric toothbrush and toothpicks.
When you were little, what did you want to grow up to be?
I'm not sure anymore. I think it varied a lot between a number of jobs that every little girl dreams of, like hairdresser and dolphin trainer.
What gives you the most satisfaction when you're helping people?
In my work, I receive a lot of people who have developed a fear of the dentist because of a bad experience in the past. If I can make sure that they have a pleasant experience of the treatment and will gladly come back to me then that gives me a lot of satisfaction!
What do you do to ensure that every patient leaves the practice happy?
I try to listen to the complaints and/or wishes of the patient. I start work carefully and make sure that the patient always feels in control of the treatment. 
Can you tell me about the nicest moment of your career so far? One that's unforgettable? 
One of my patients was always really scared of the dentist and the dental hygienist. After her first treatment with me, she burst into tears with happiness because she'd never had such a positive experience with treatment before! She even came back to the practice with a bunch of flowers afterwards. It's lovely to be able to mean something like that to someone.
What prejudice about dentists would you like to get rid of?
That we enjoy "making our patients suffer". That is absolutely untrue, and we want to do everything we possibly can to make sure that's not the case! Of course we understand that not every treatment is going to be pleasant. That's why it's important to say what you're worried about in advance, what you're scared of, or didn't like during previous treatments. We're happy to help think of solutions, to make sure that your experience with us is much better.
What plans do you have for the future within dental care? 
I sometimes consider whether I'd like to go and study dentistry. I really enjoy being a dental hygienist, but who knows what the future holds.
Why would you suggest people choose Tandarts Jordaan for their dental care?
We are really attentive to the wishes of the patient and try to think collaboratively with them. Additionally, we have all specialisms under one roof which means we can offer a complete care package.
What's your top tip for helping people care for their teeth?
I know that it's not easy for everyone, but do try to follow our advice as far as possible. You will notice your dental health really improves which makes your next visit to us nicer 🙂
Would you like to know more about dental hygiene or periodontology at Tandarts Jordaan? Then read on.
Register and make your first appointment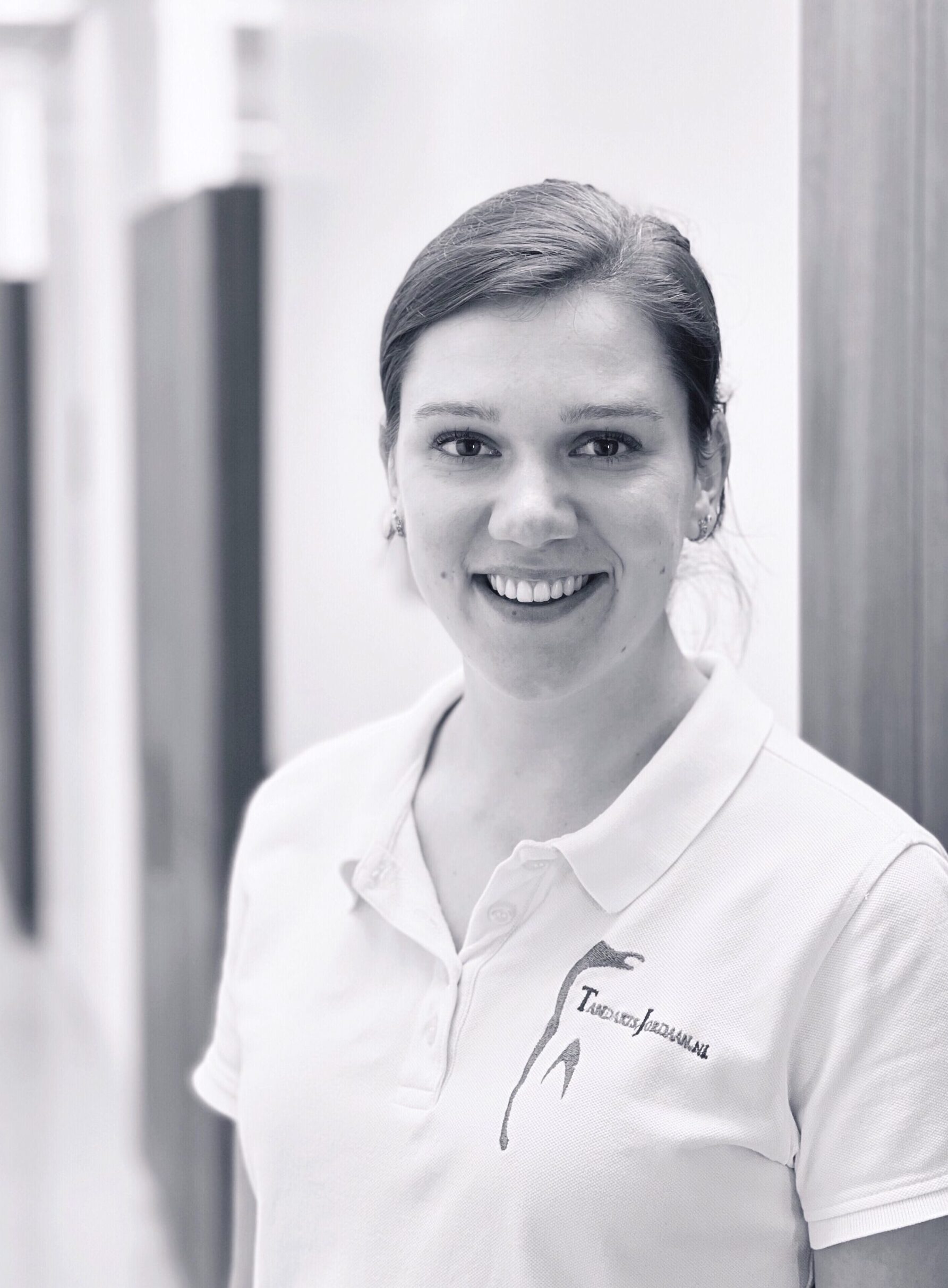 Hannah van Stuivenberg
Dental assistant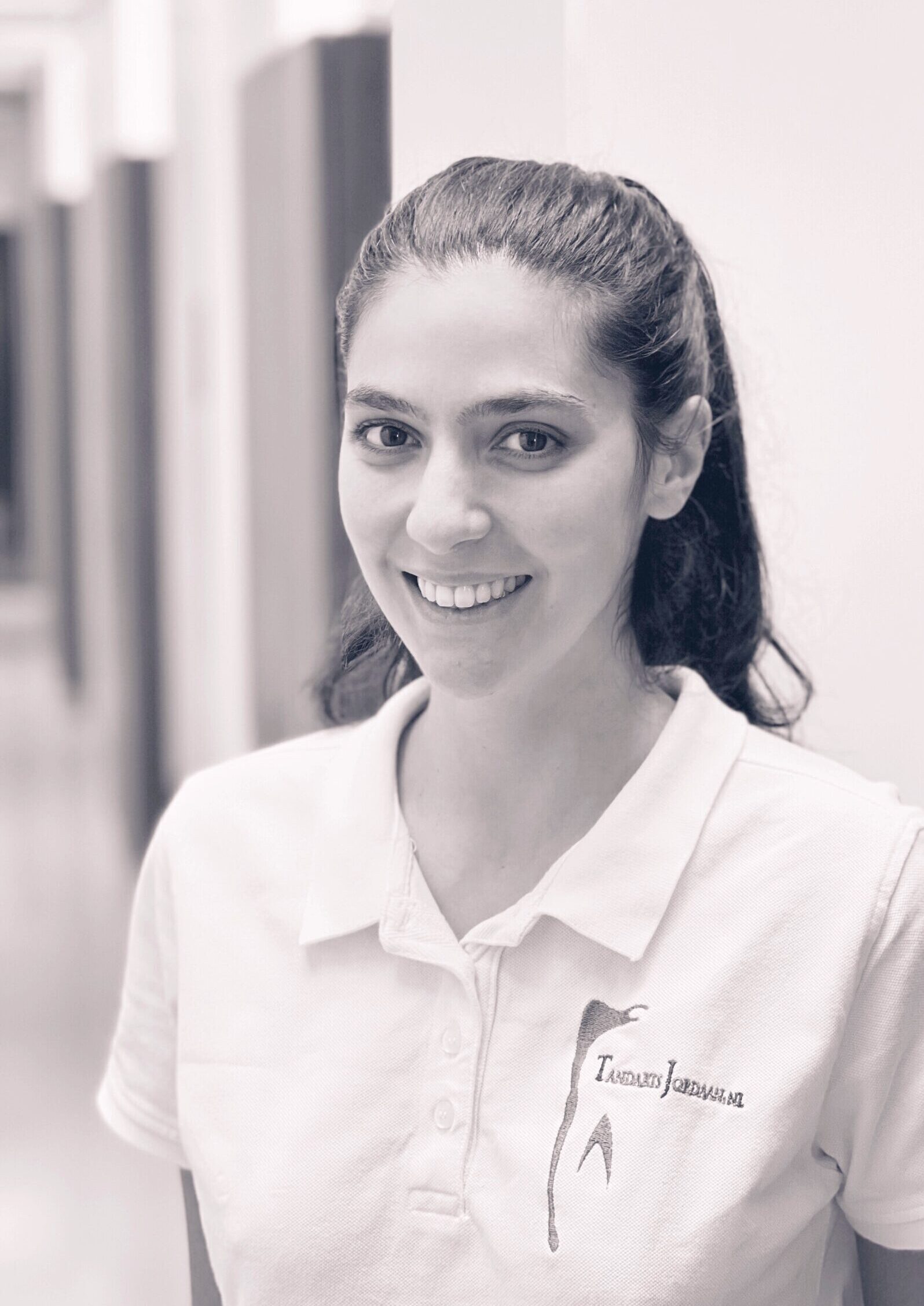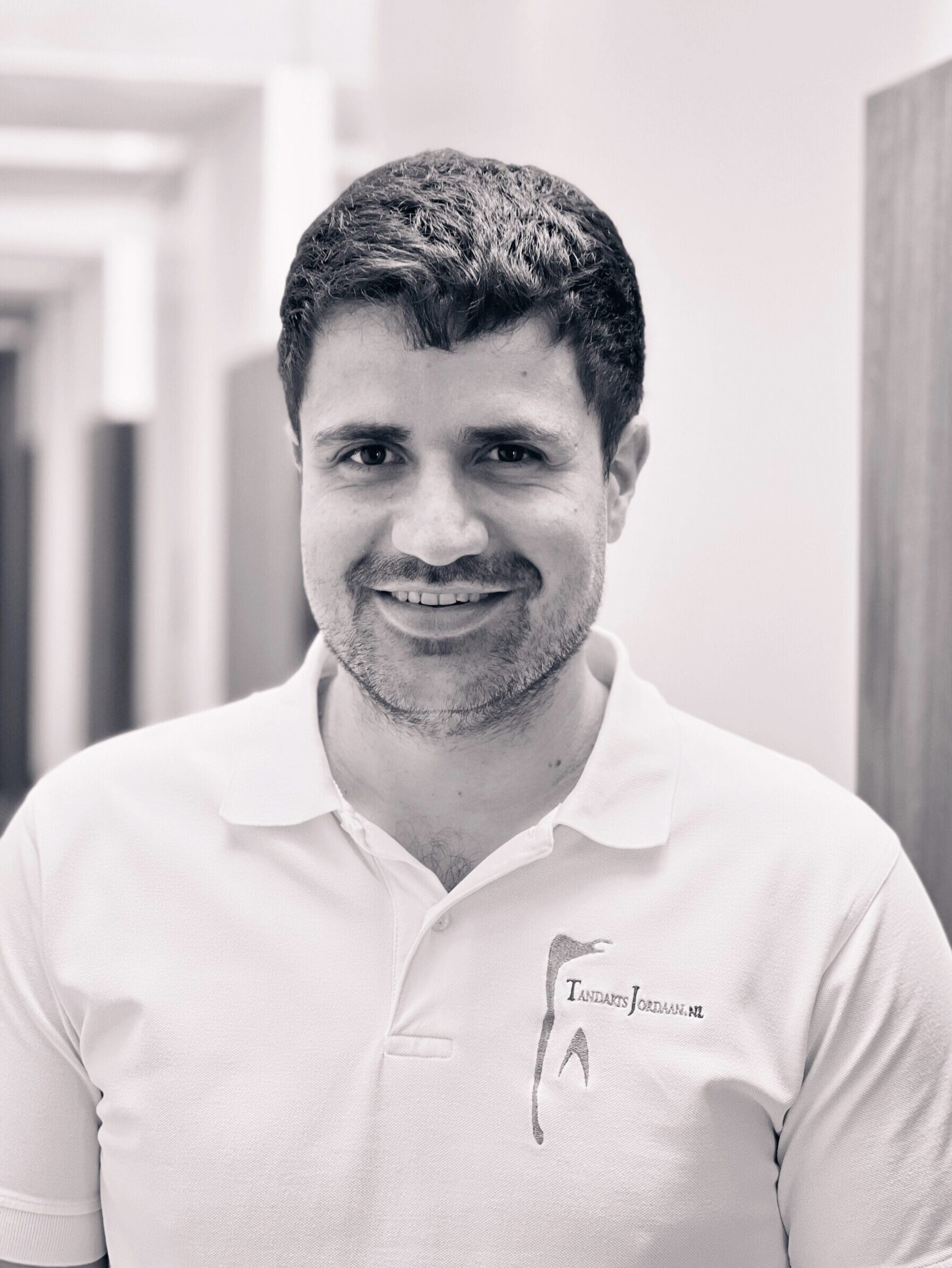 Kostas Kosmidis
Periodontologist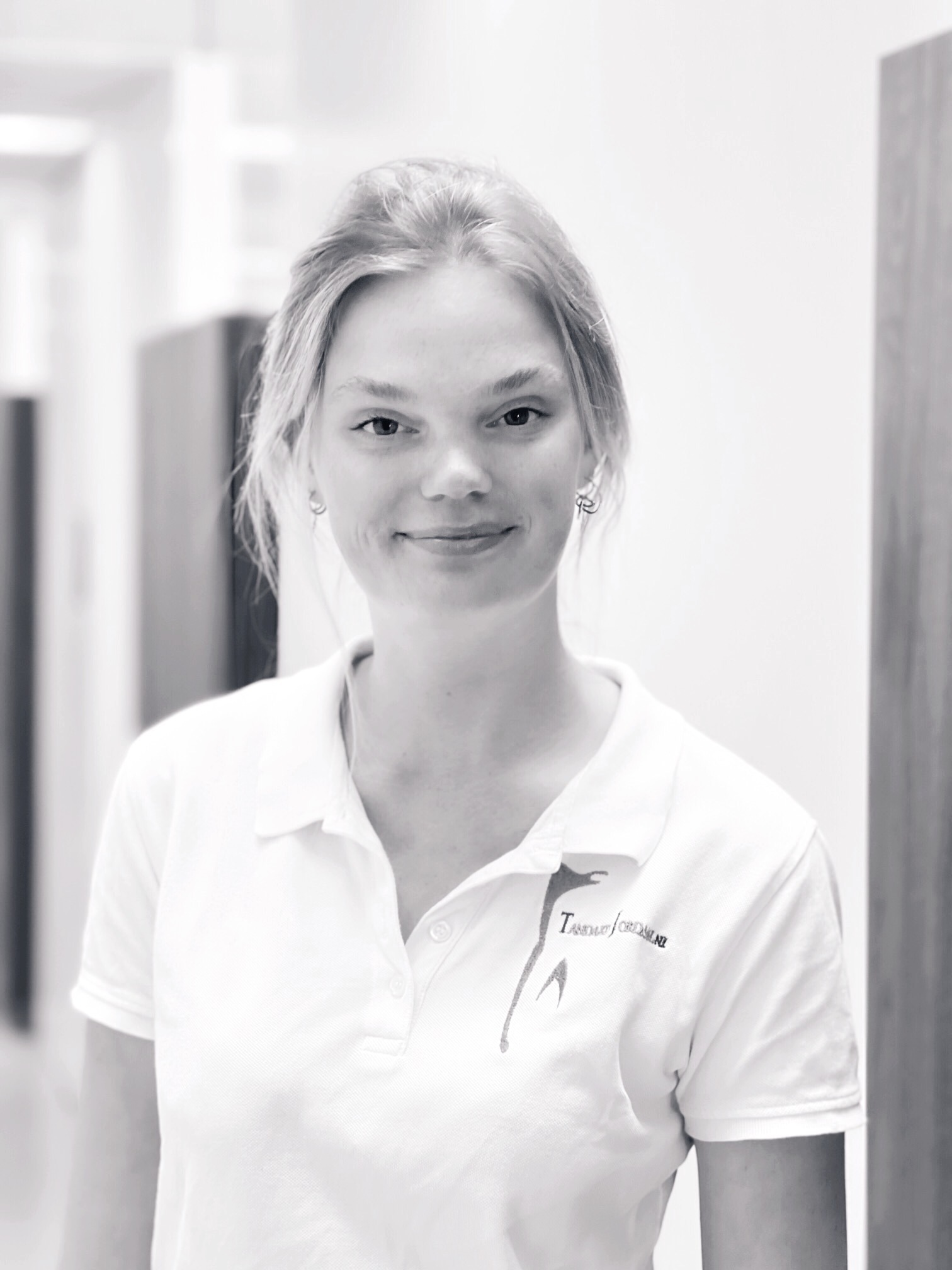 Mette Rijk
Dental hygienist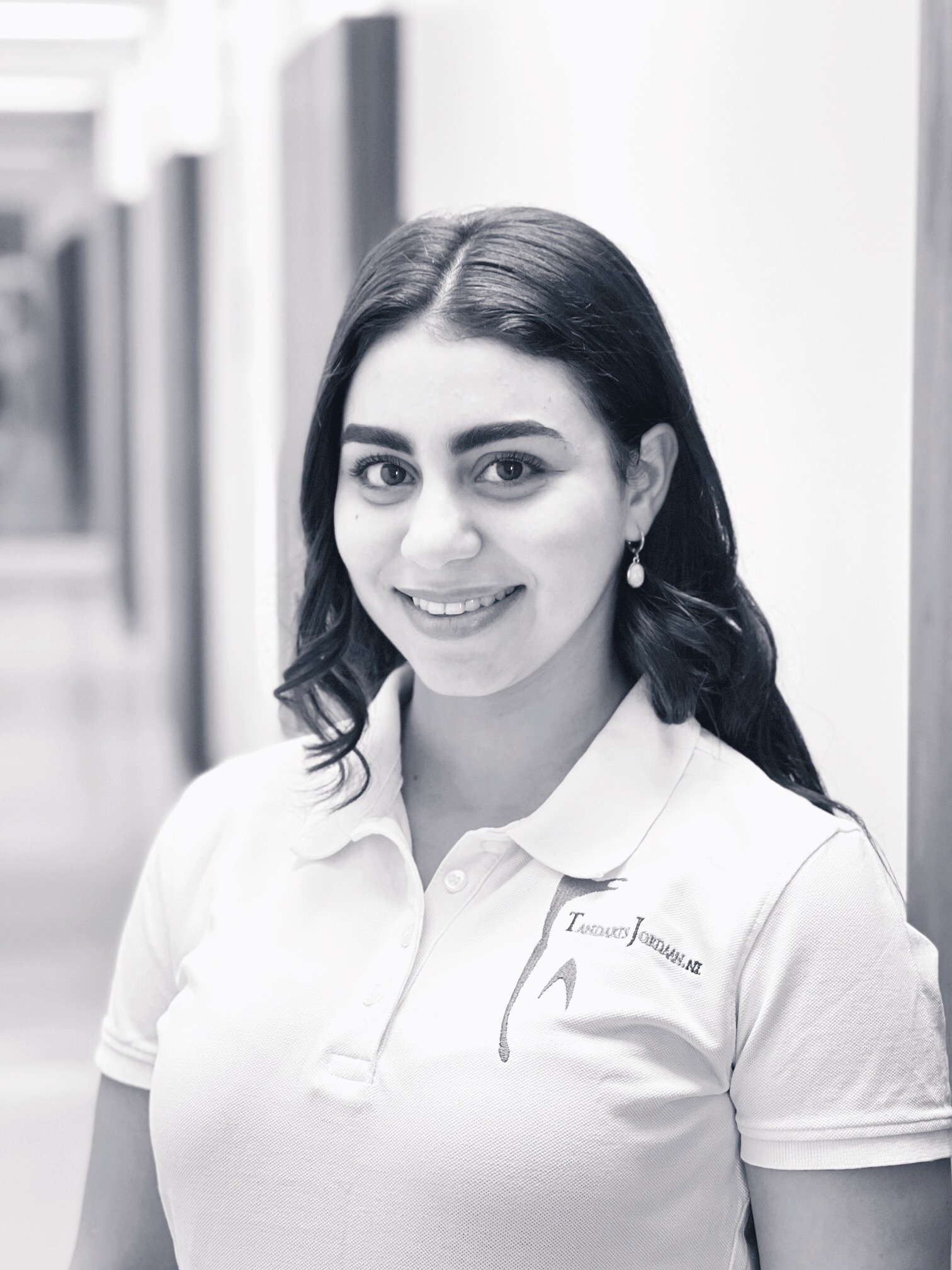 Maria Henien
Dental assistant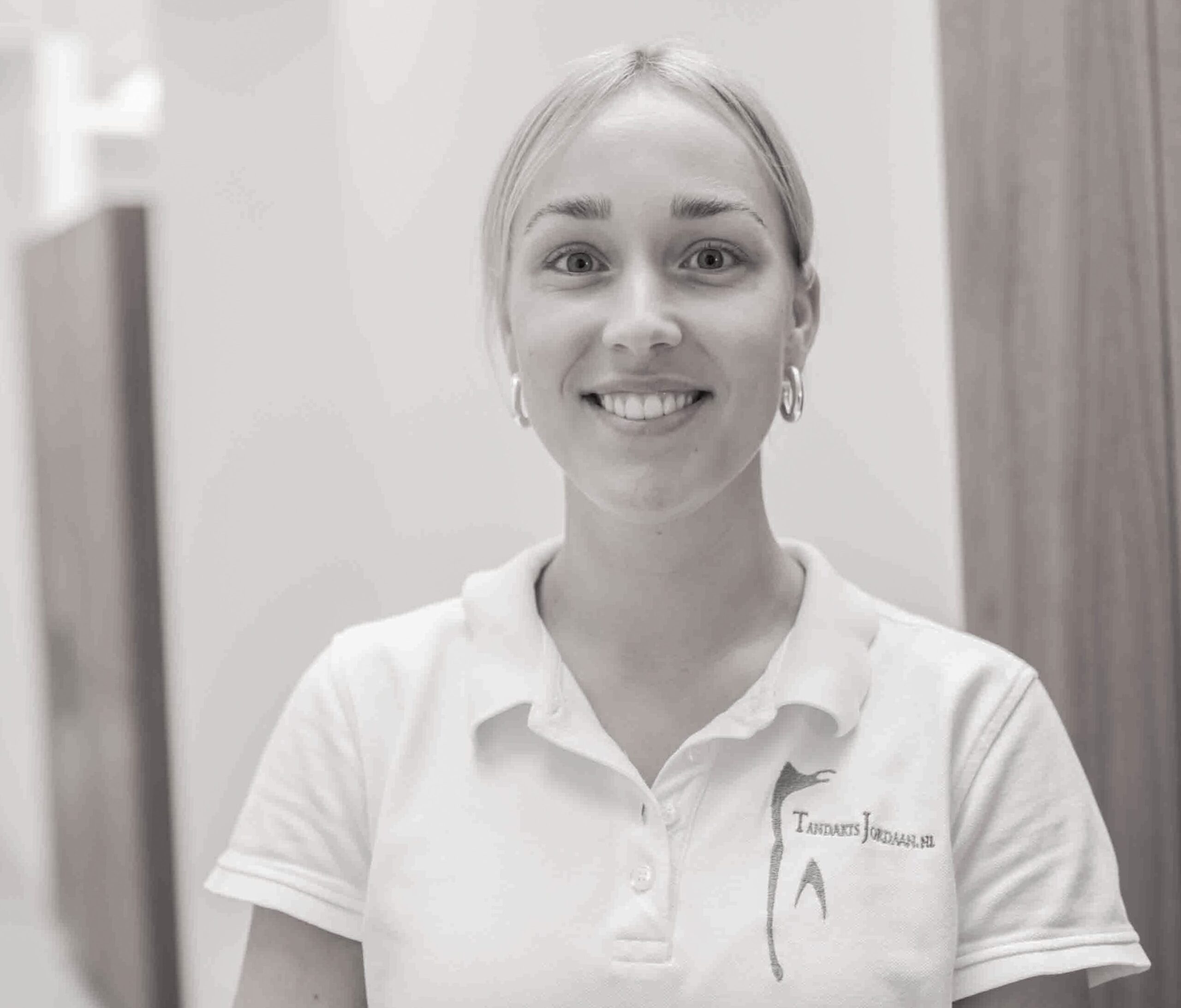 Lieke Tijhuis
Dental Hygienist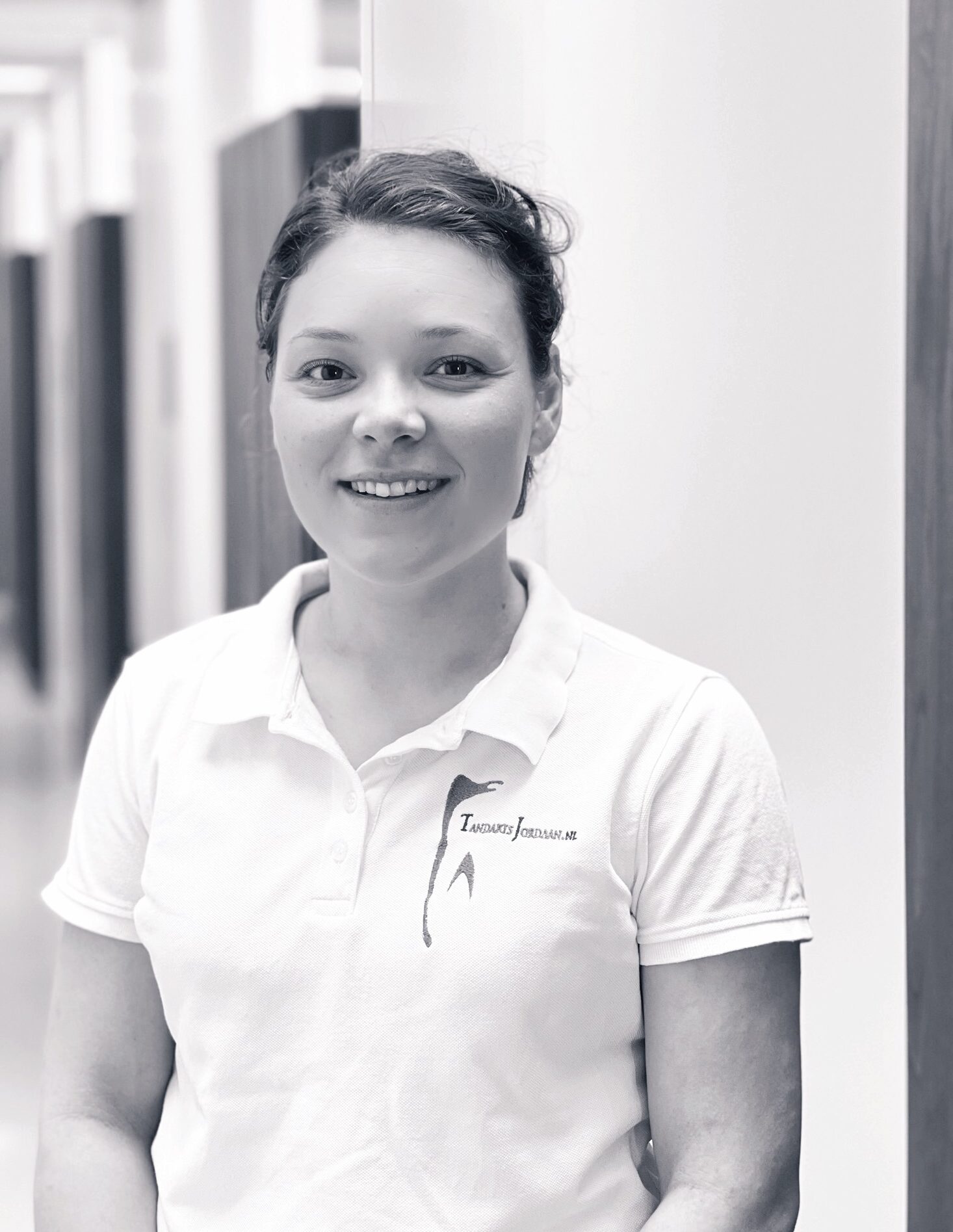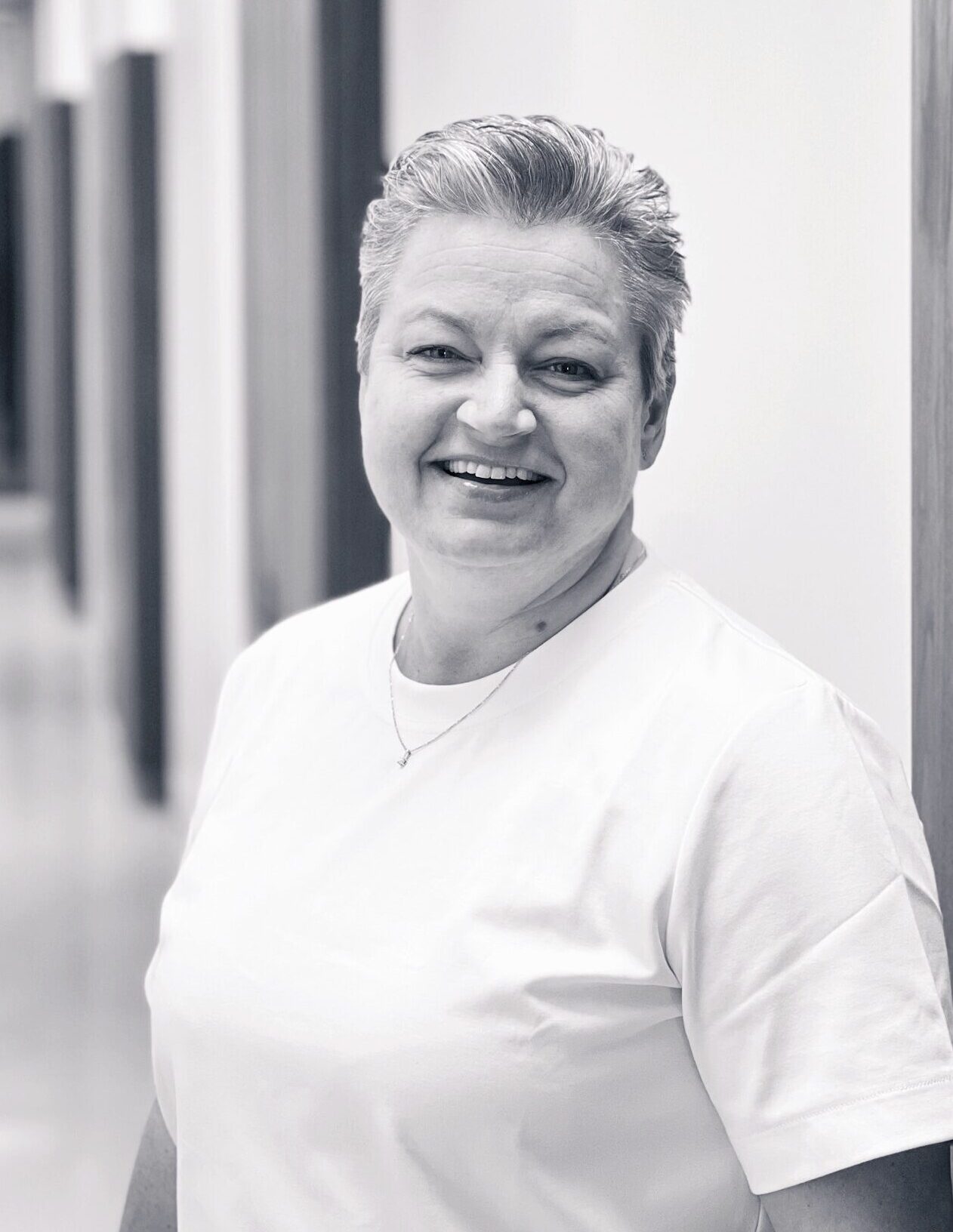 Linda Mars
Front- and backoffice employee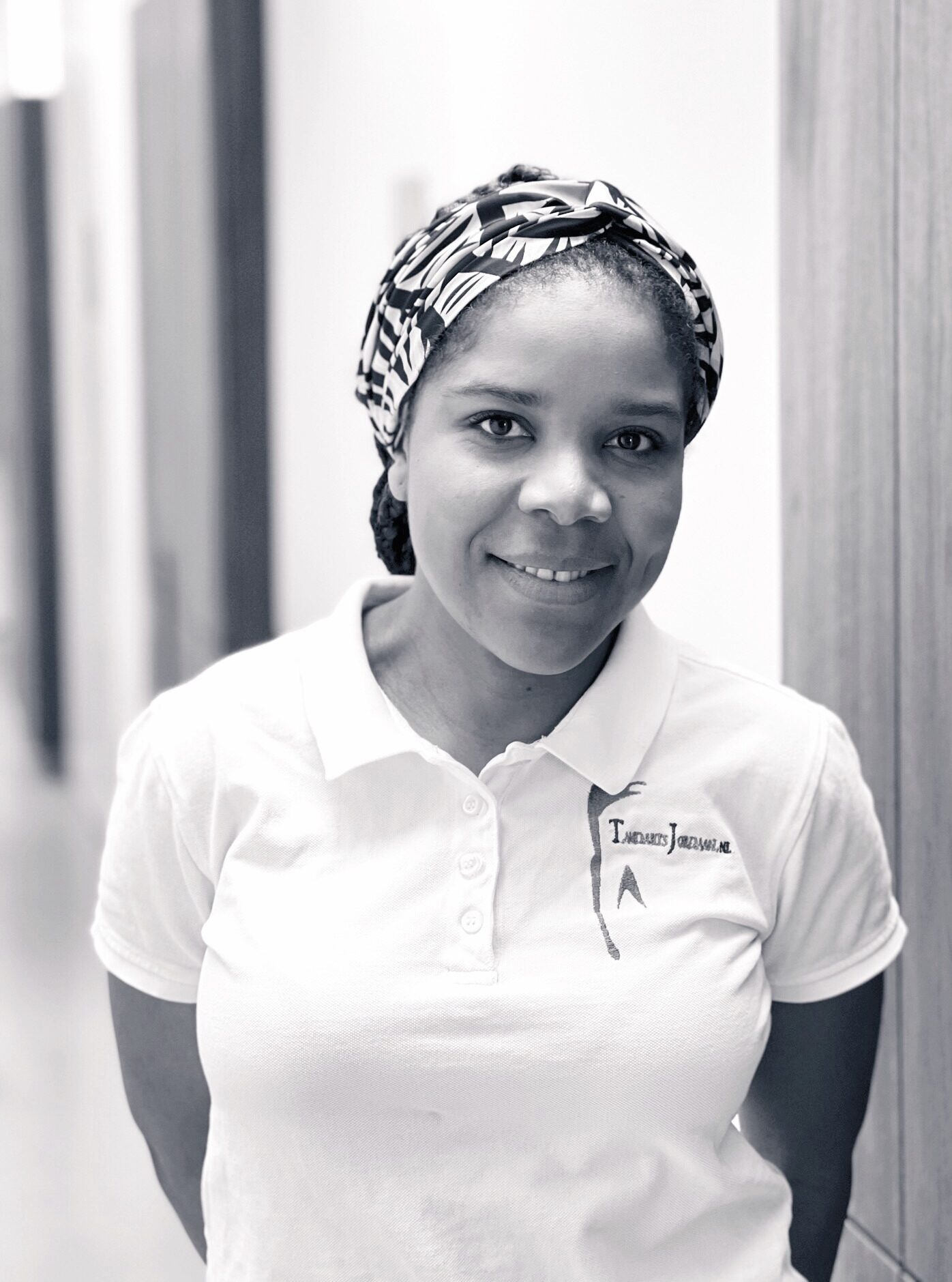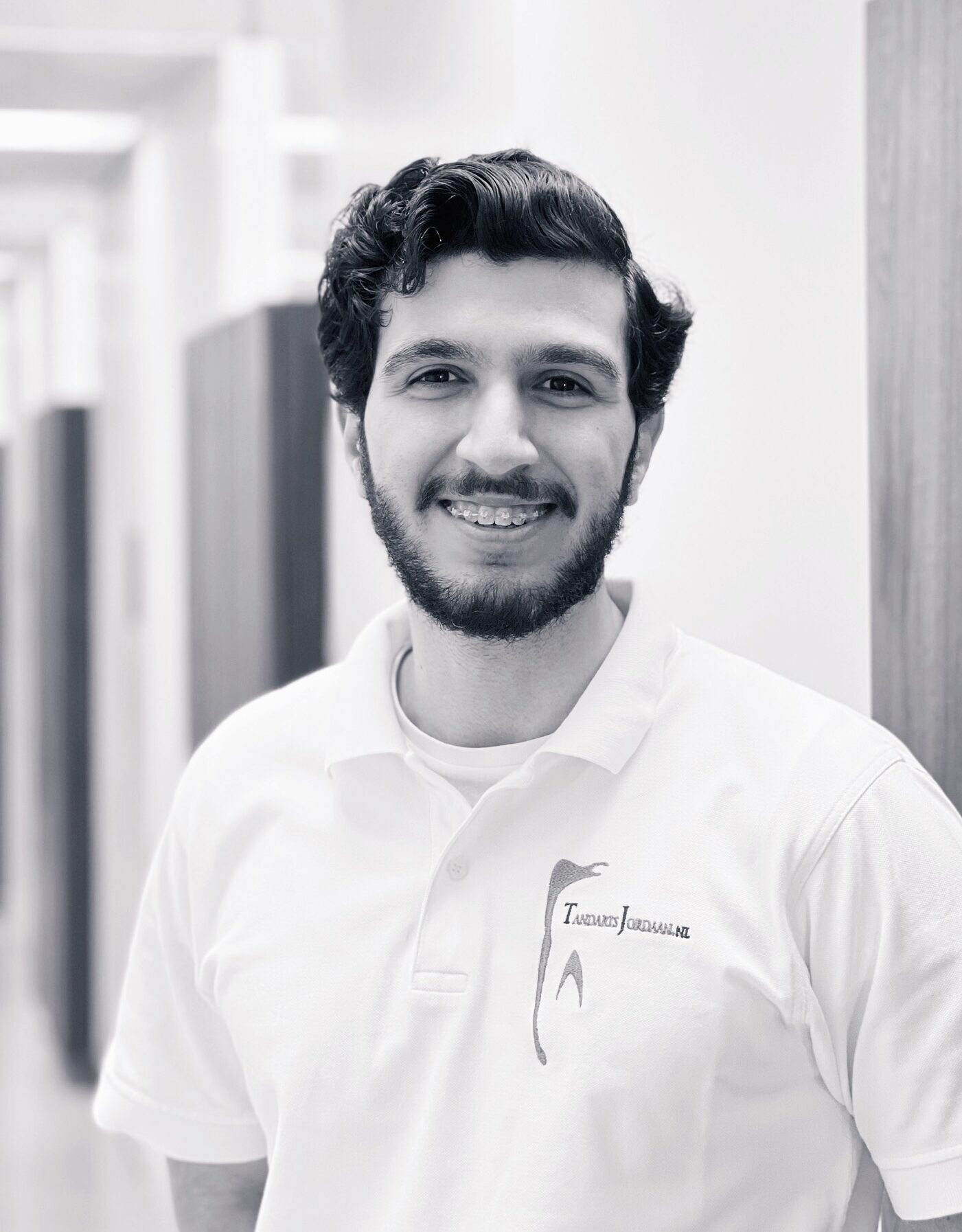 Baran Arisoy
Dental assistant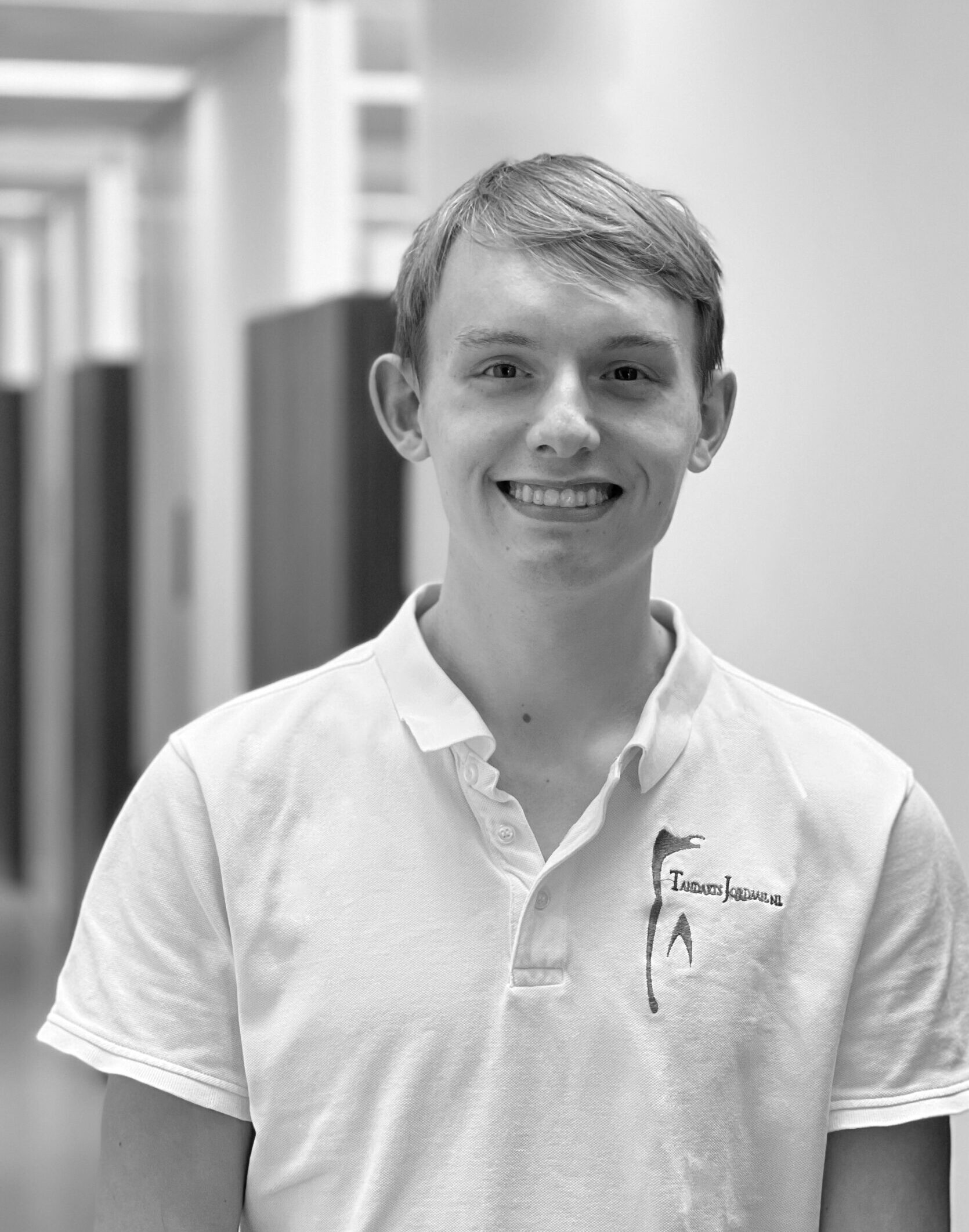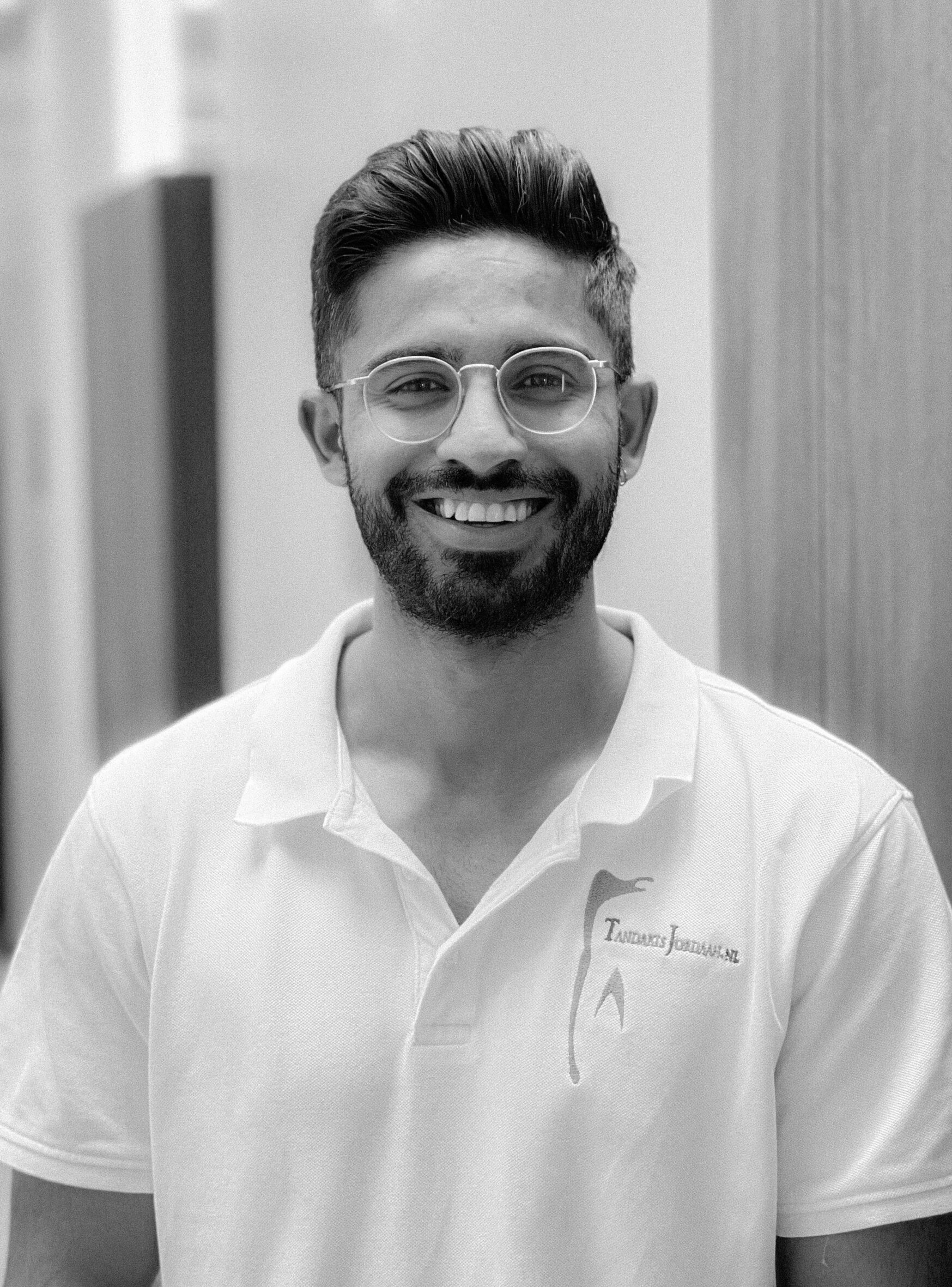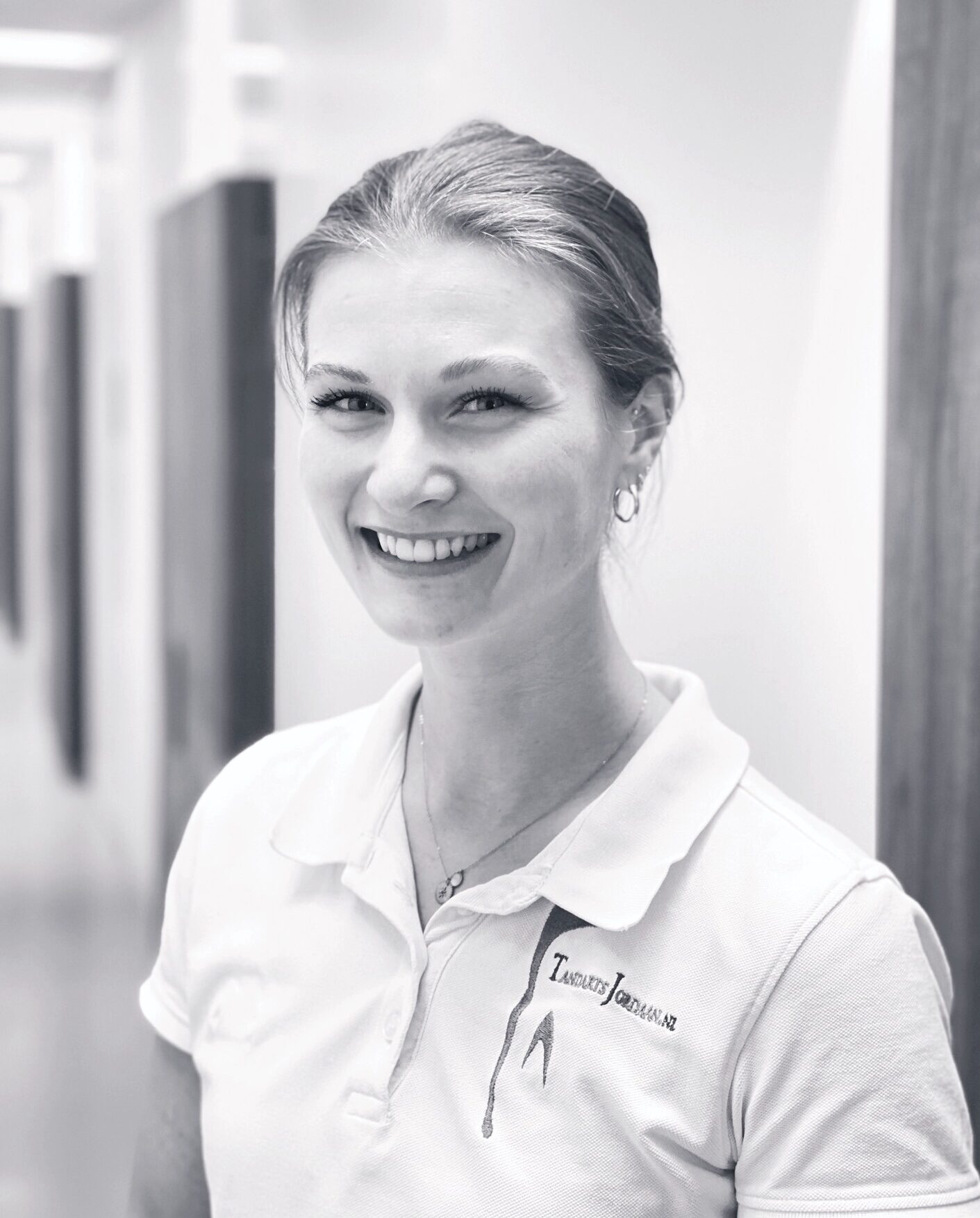 Nina Nijland
Dentist, specializing in periodontology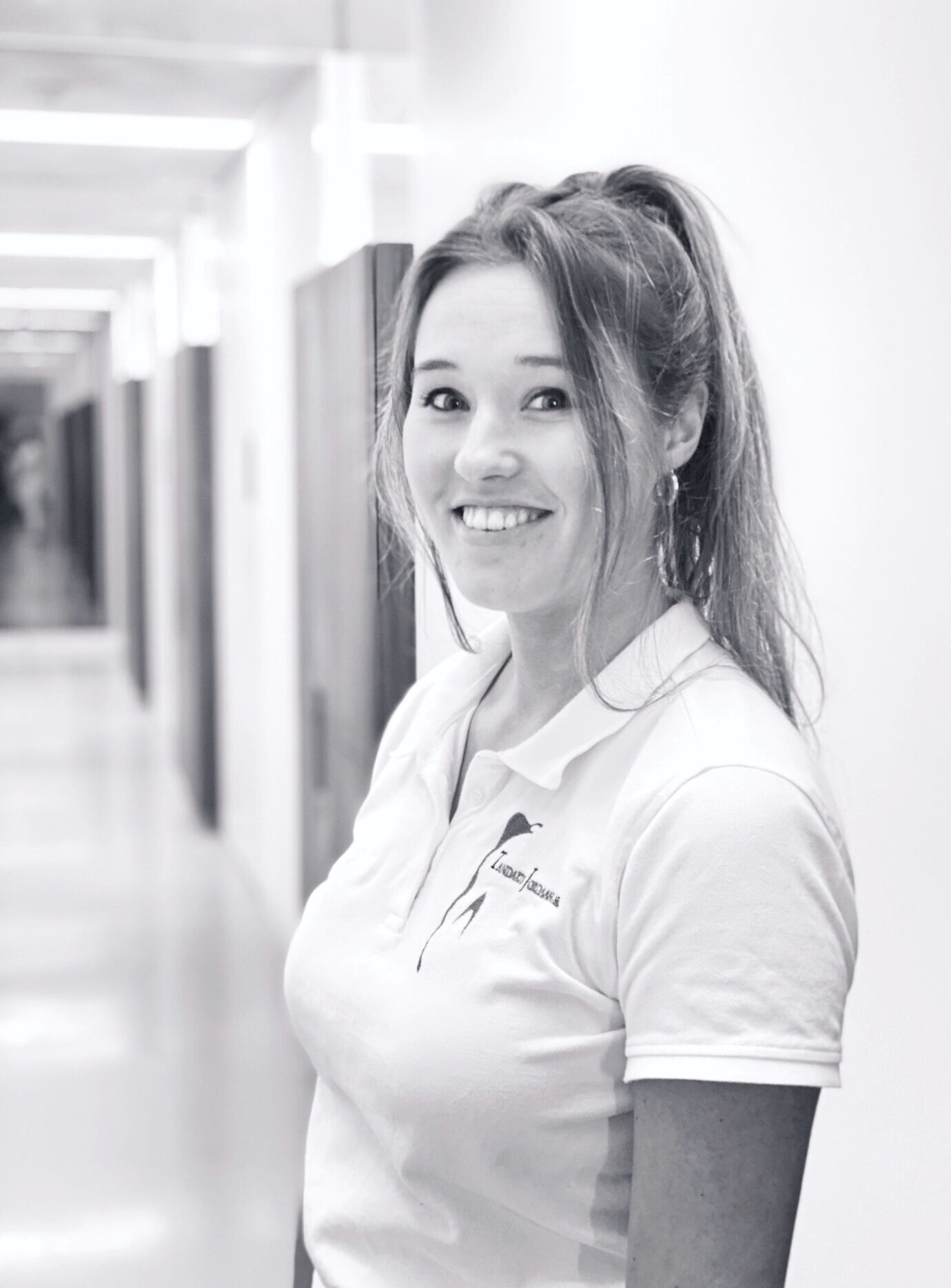 Anna de Boer
Dental assistant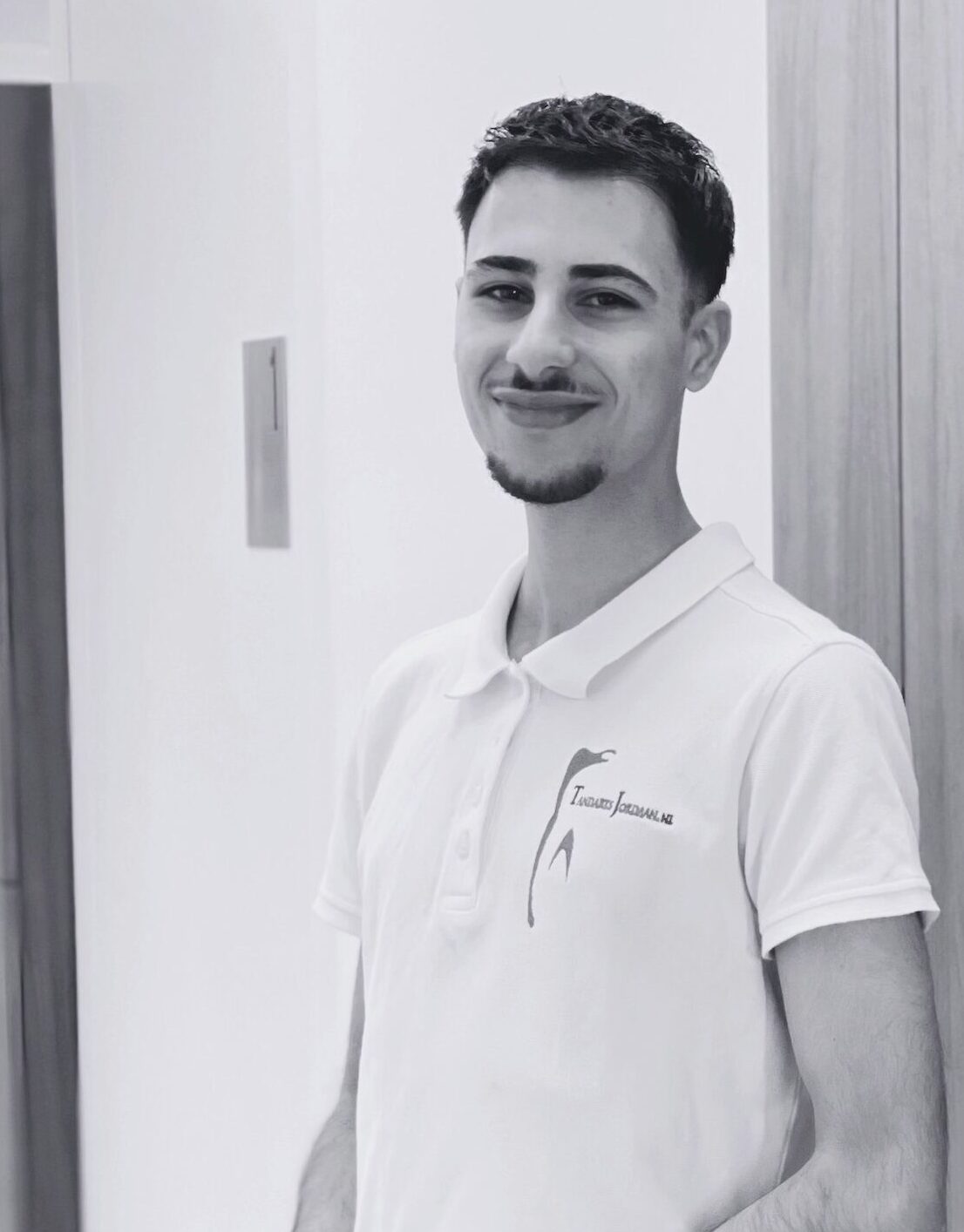 Ohannes Shamilian
Dental assistant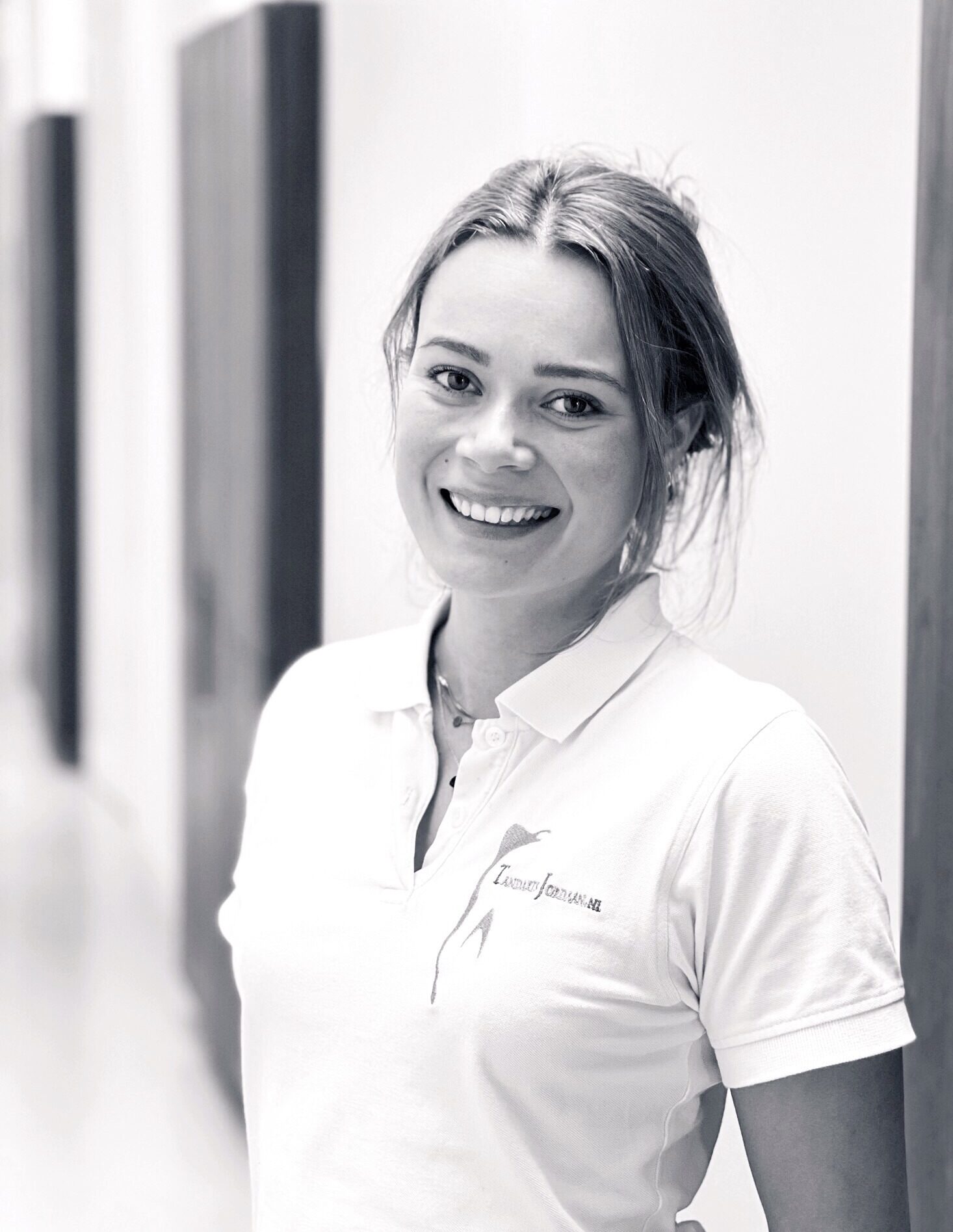 Dewi Zwiers
Dental hygienist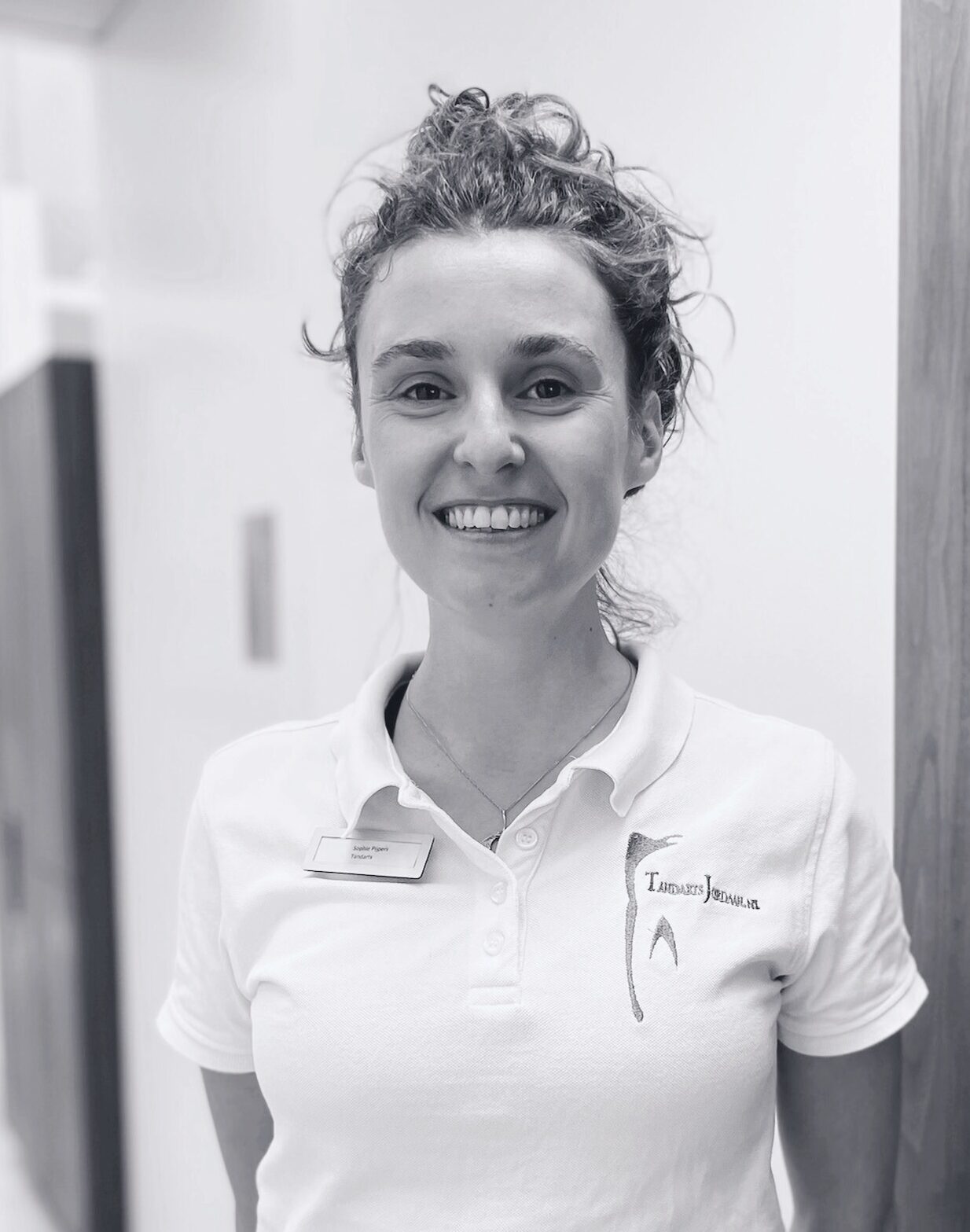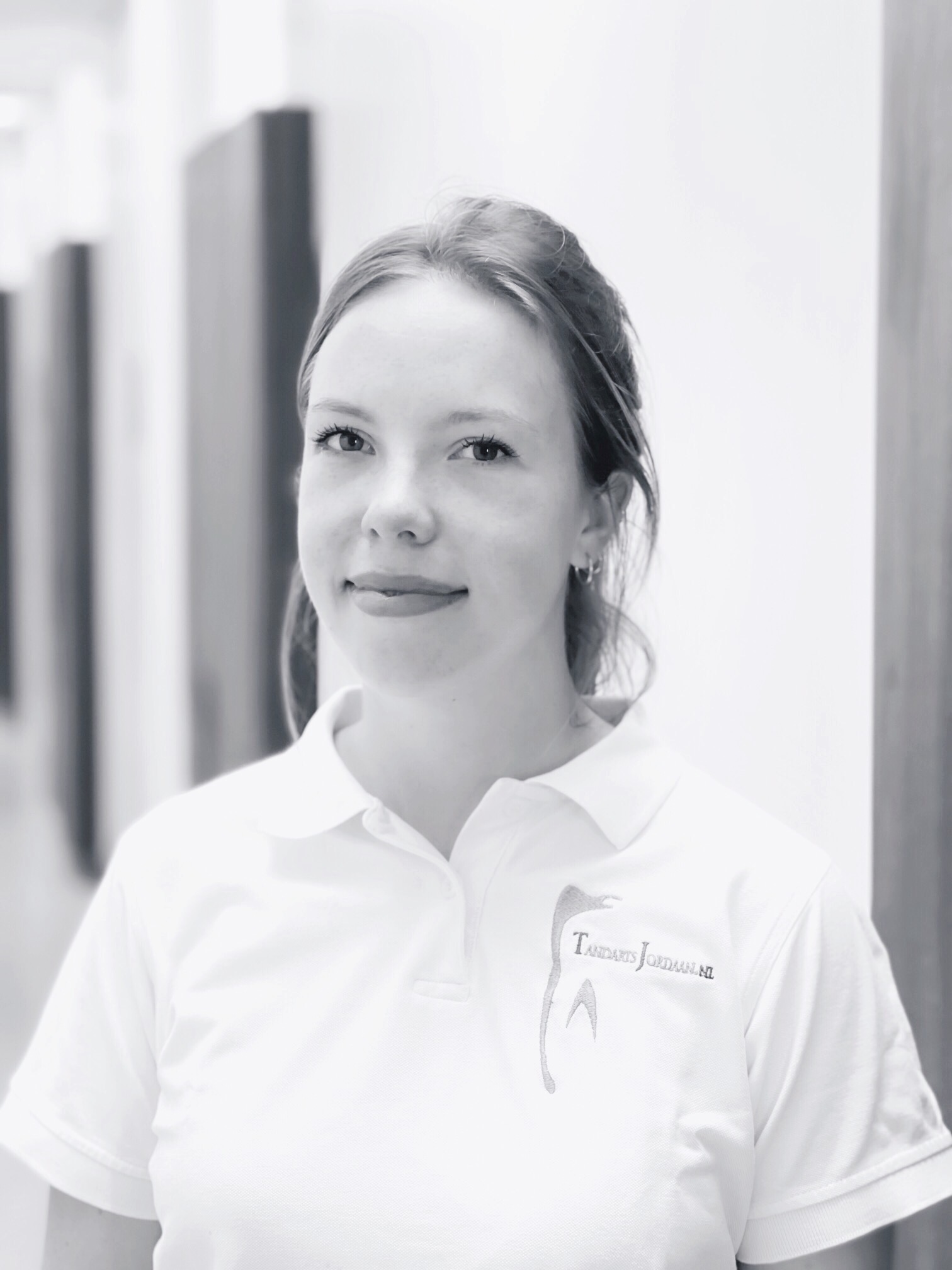 Josje de Bruijne
Dental assistant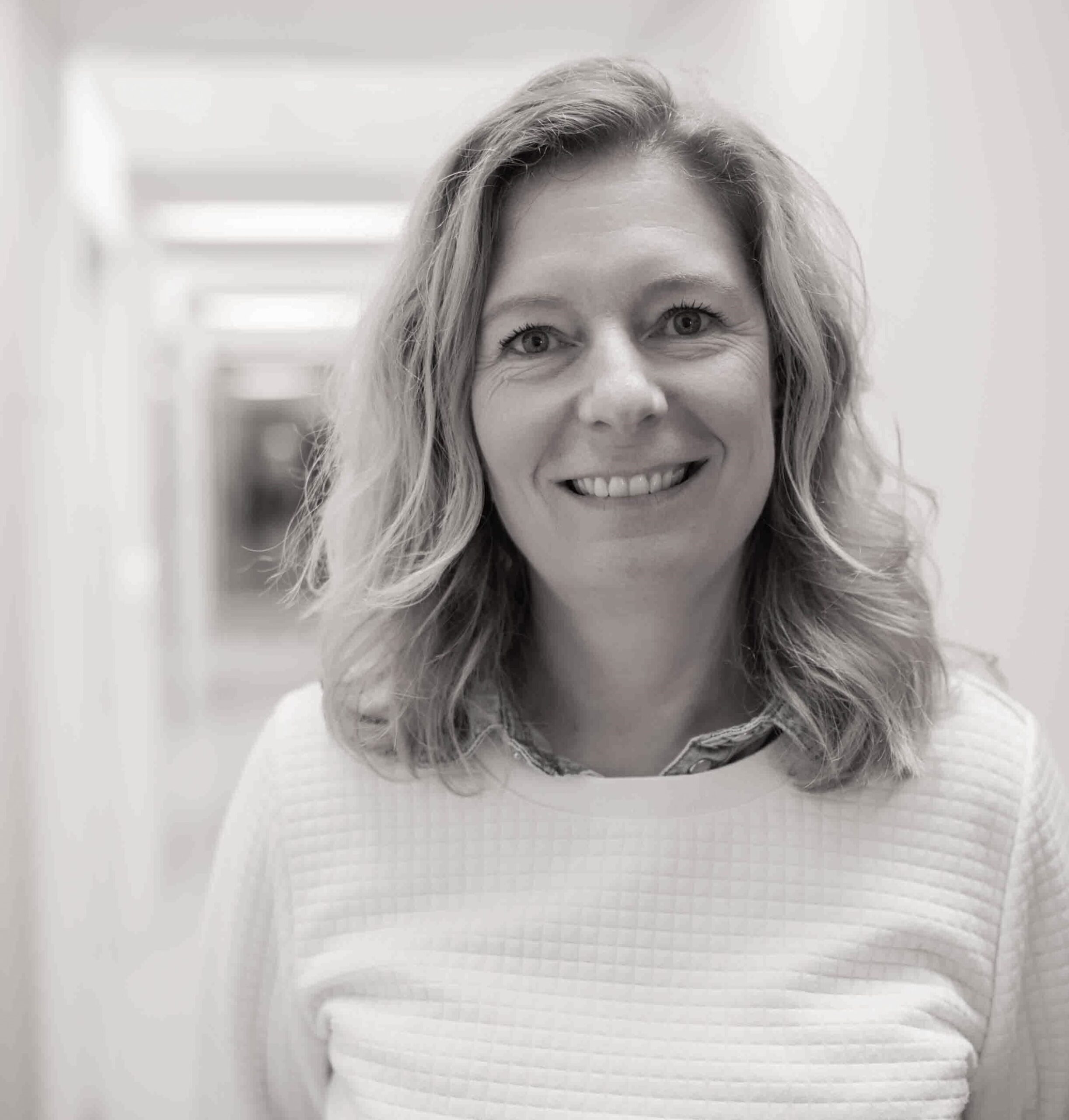 Leontien de Jong
Receptionist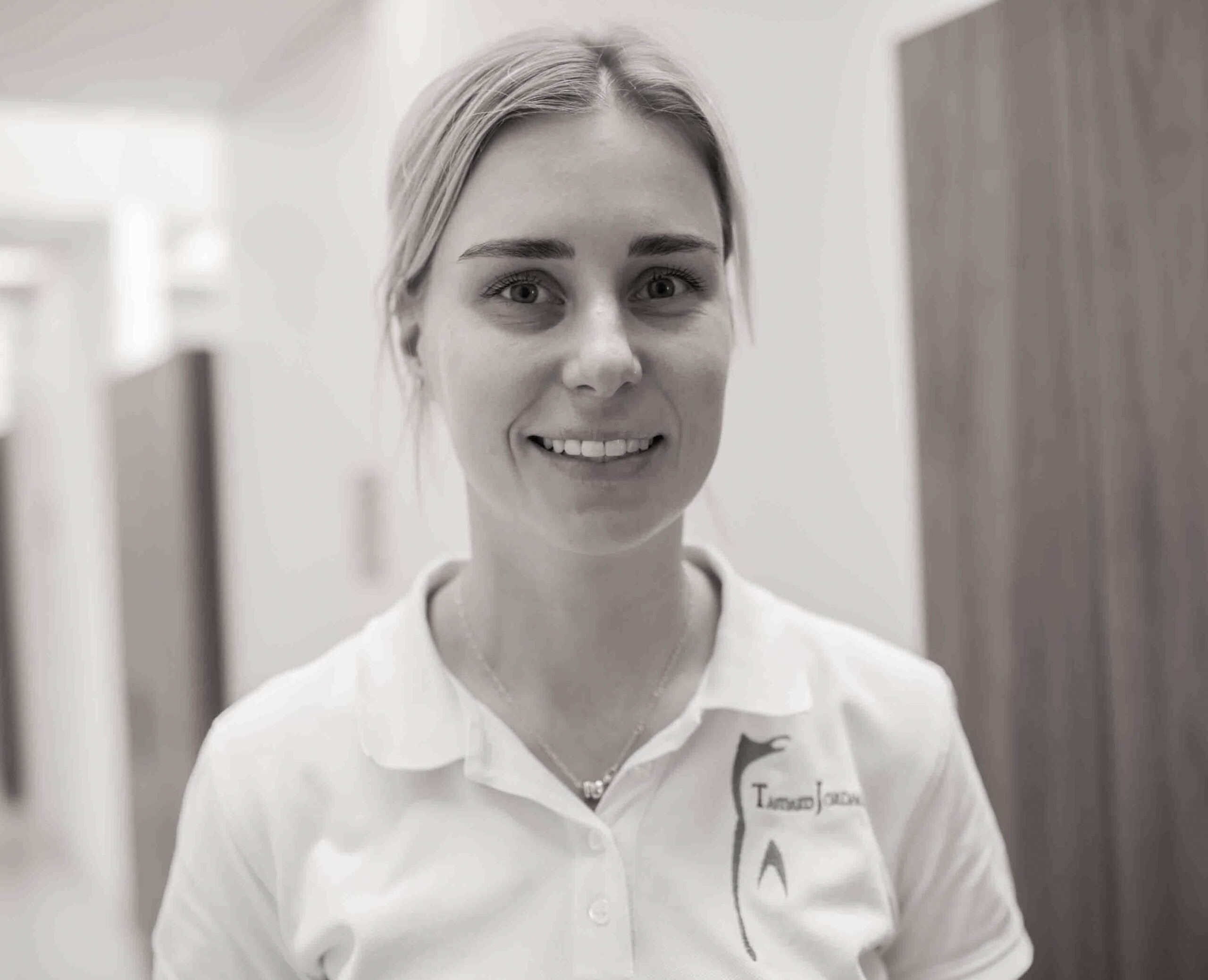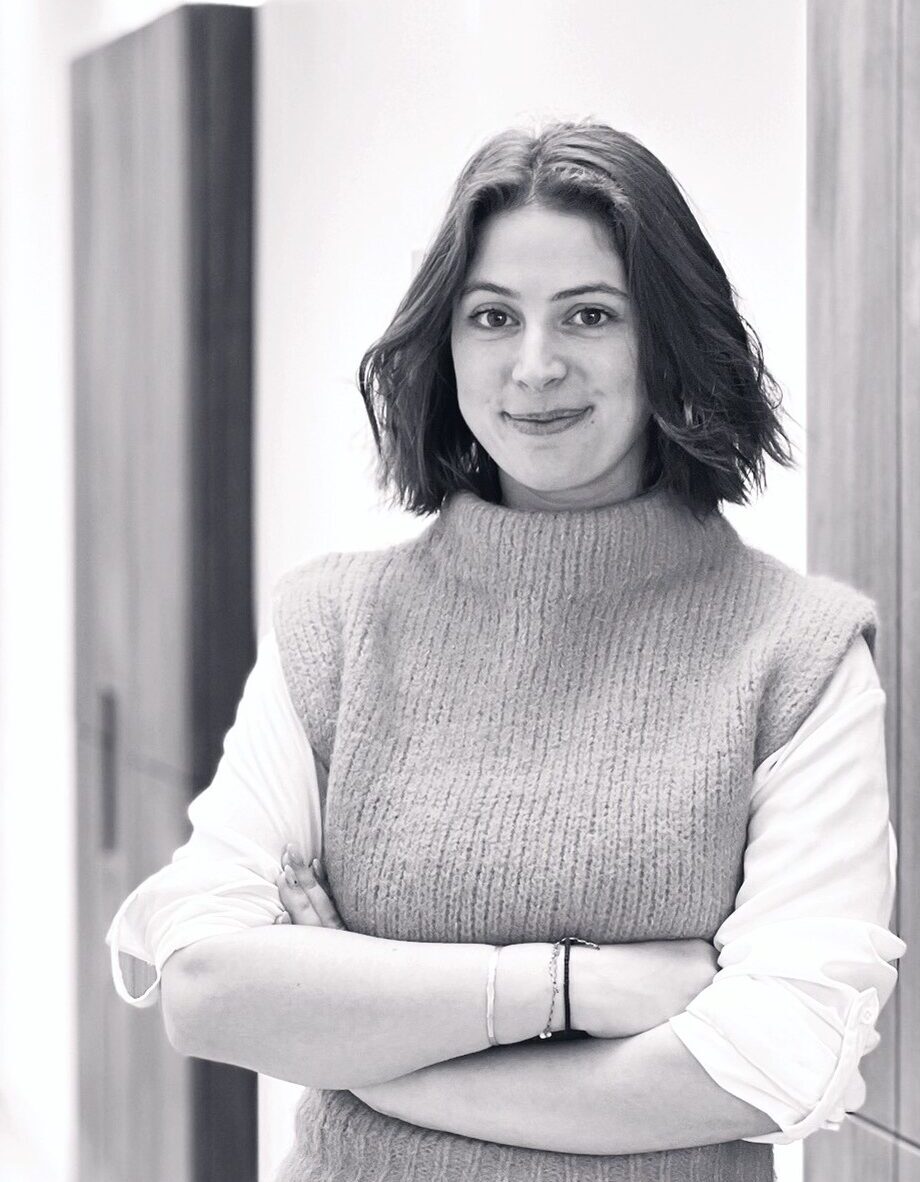 Jana Chatziliontos
Receptionist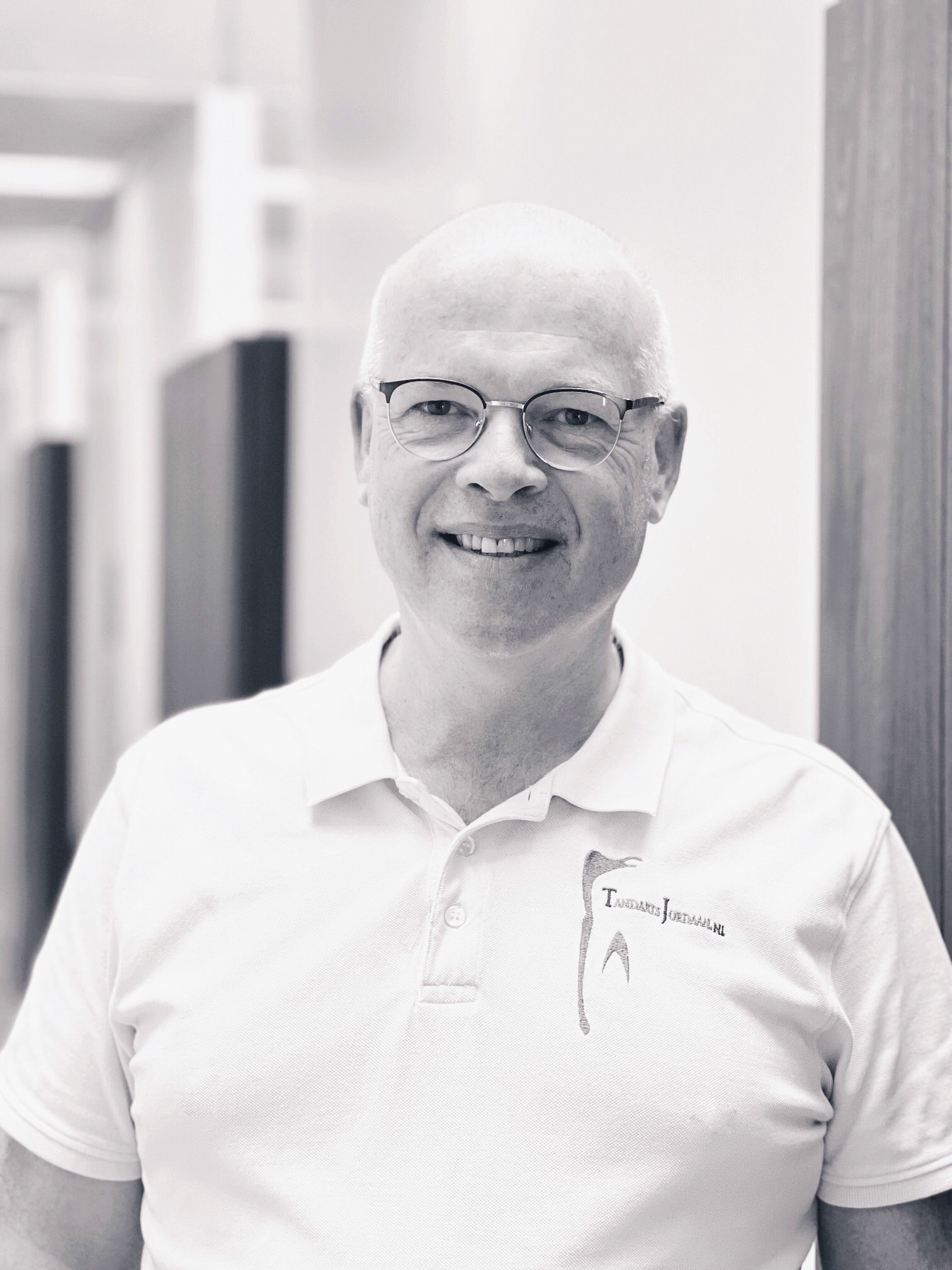 Rein van Heukelom
certified NVOI implantologist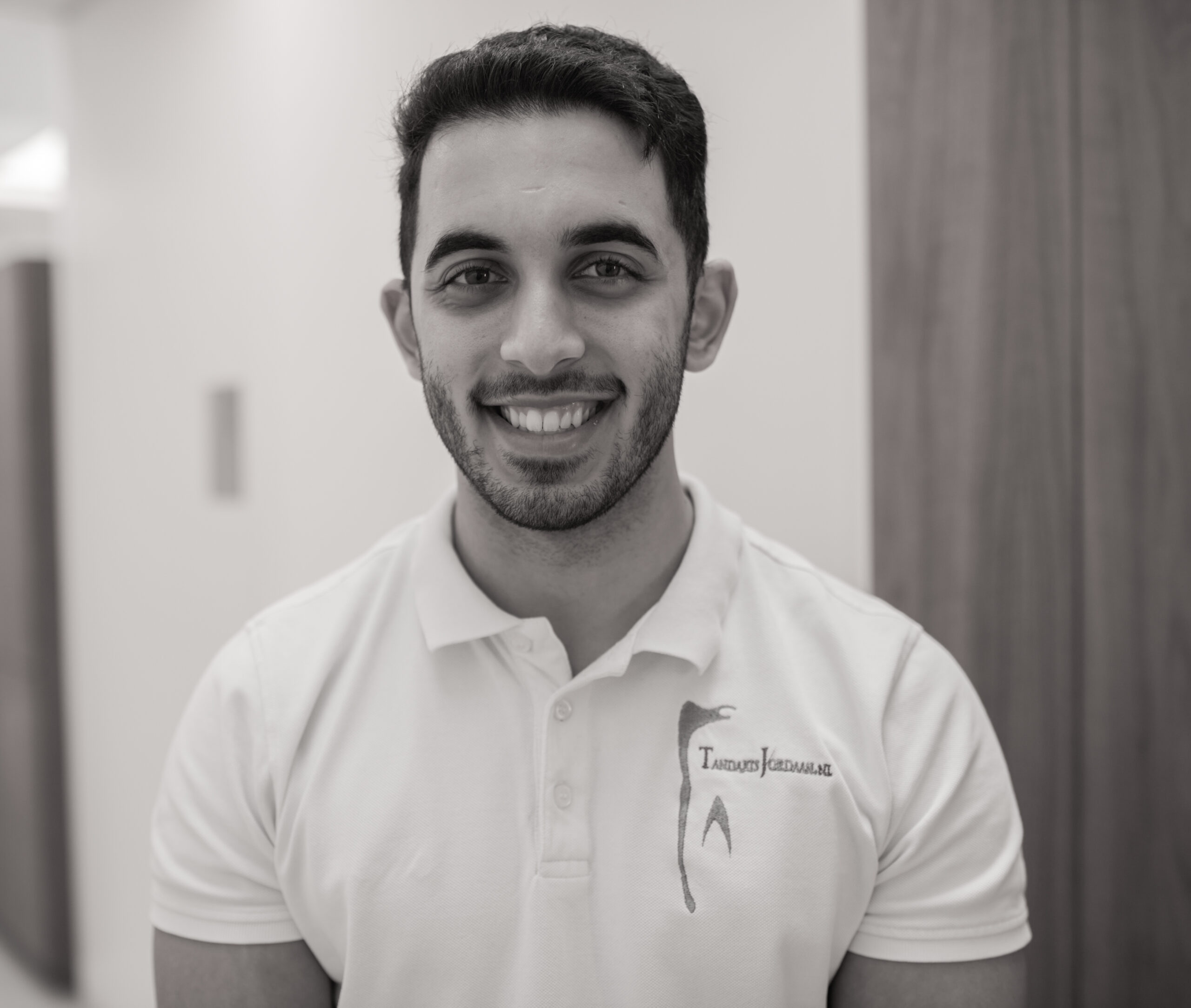 Zubair Mahmoud
Dental assistant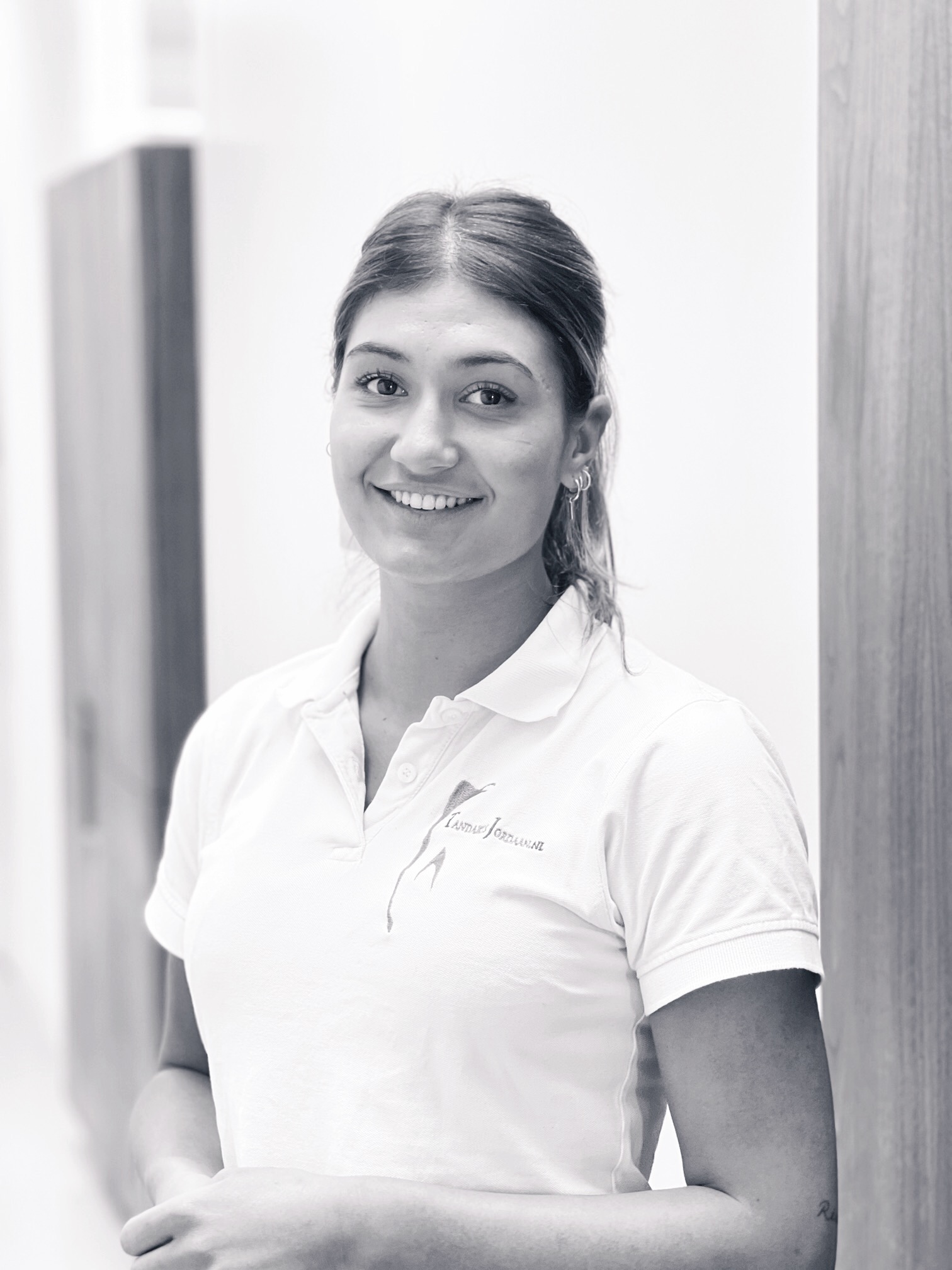 Showa van Es
Dental assistant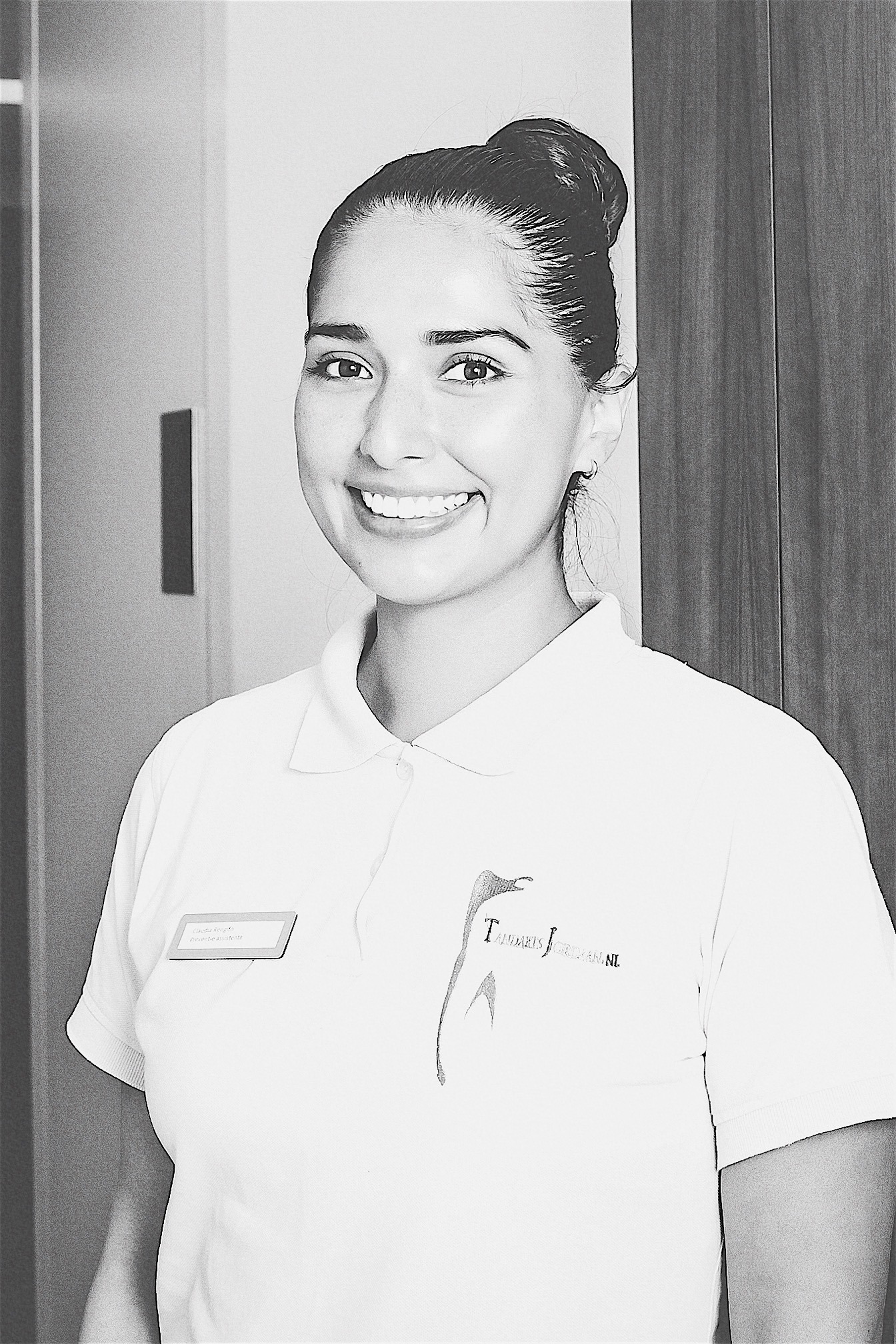 Claudia Rengifo
Periodontics assistant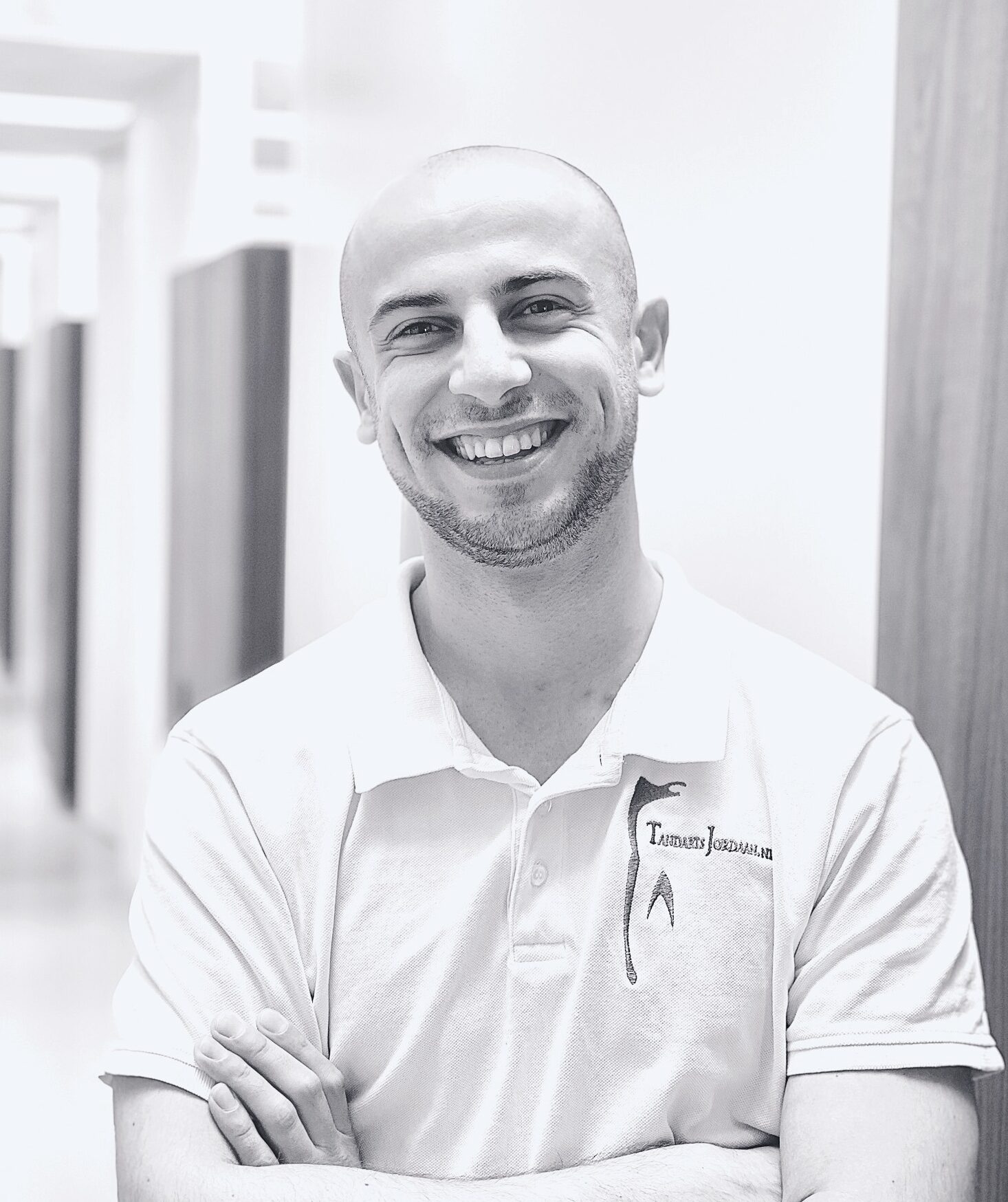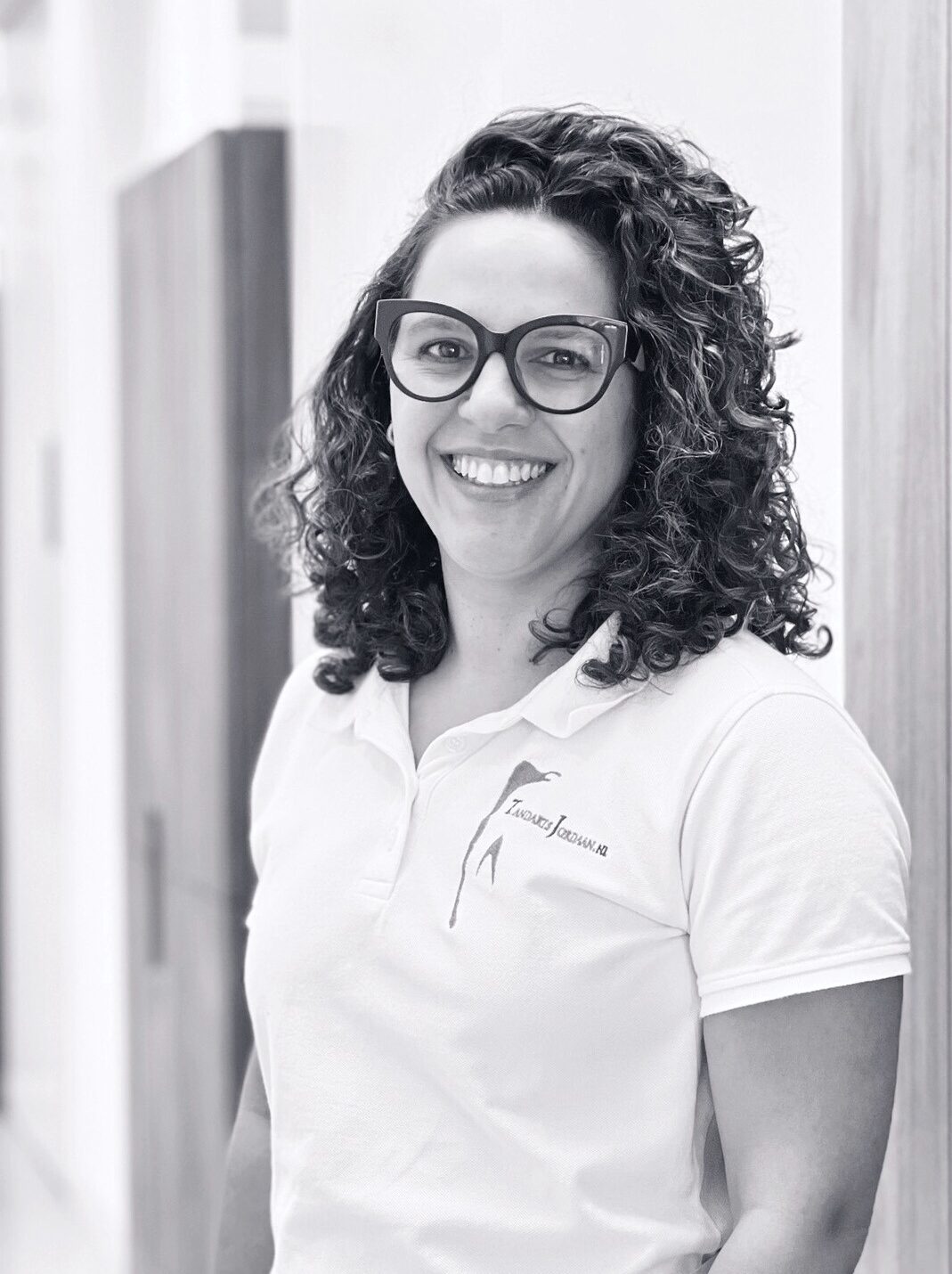 Beatriz Betti
Orthodontics, invisalign doctor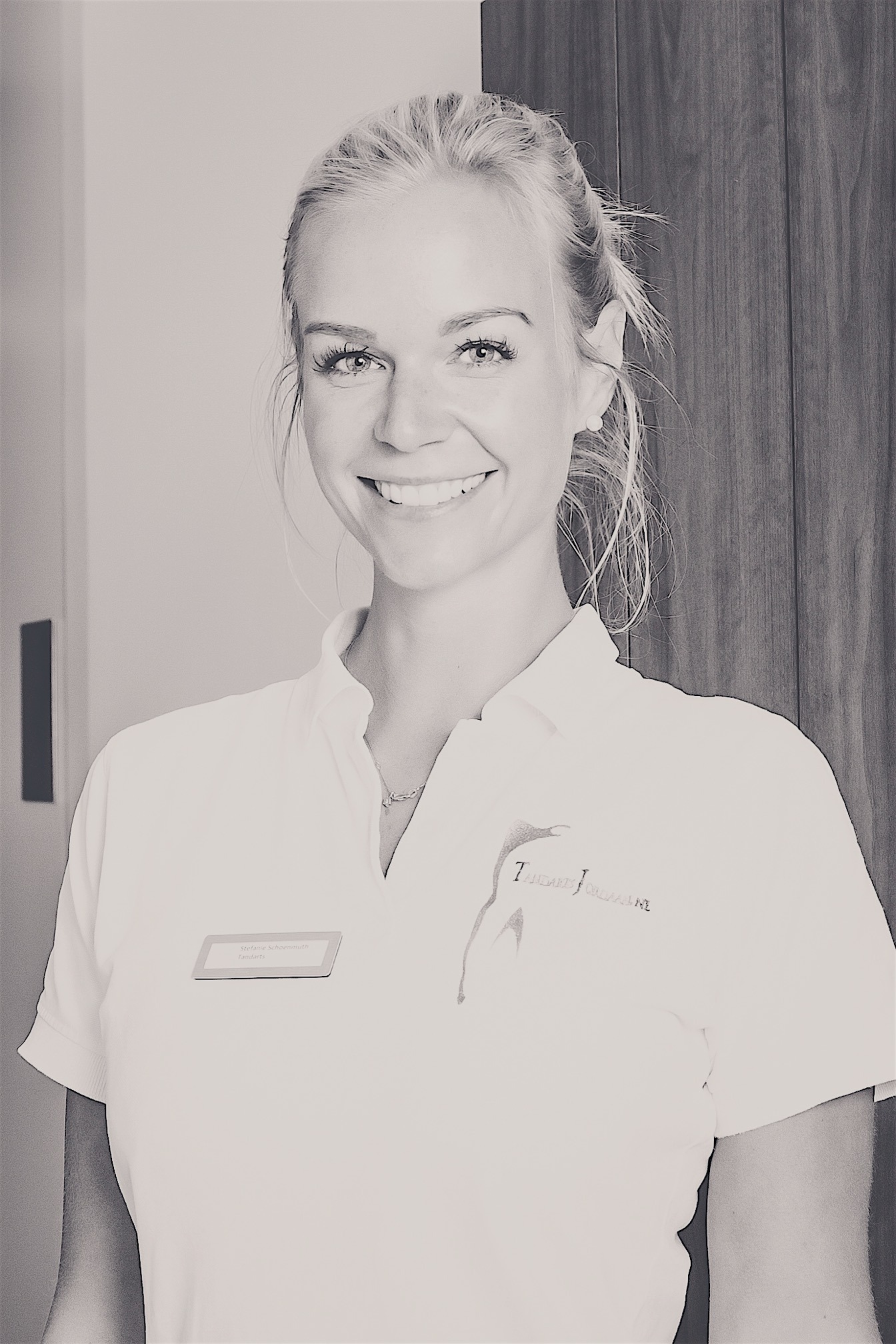 dr. Stefanie Schönmuth
Dentist, PhD in dentistry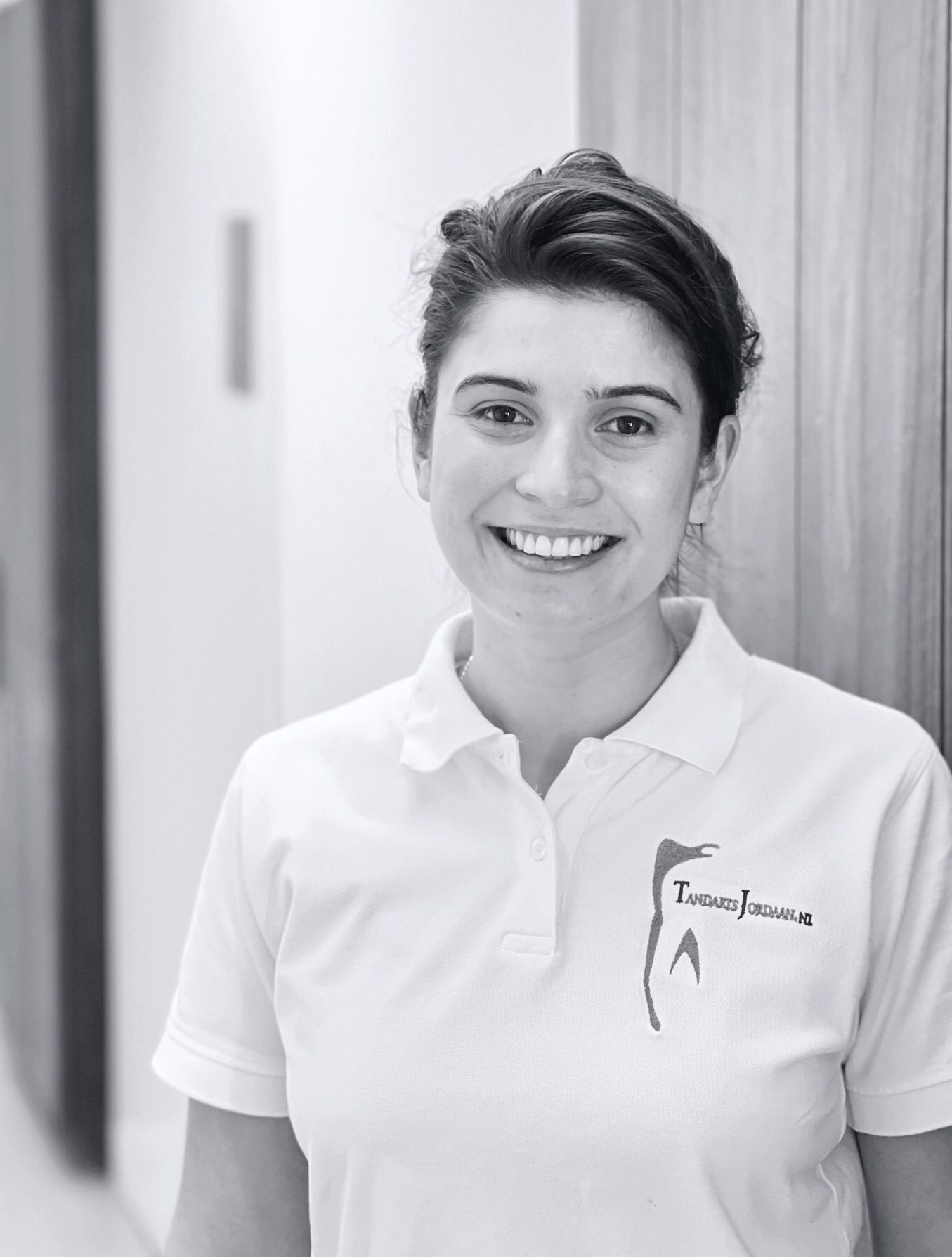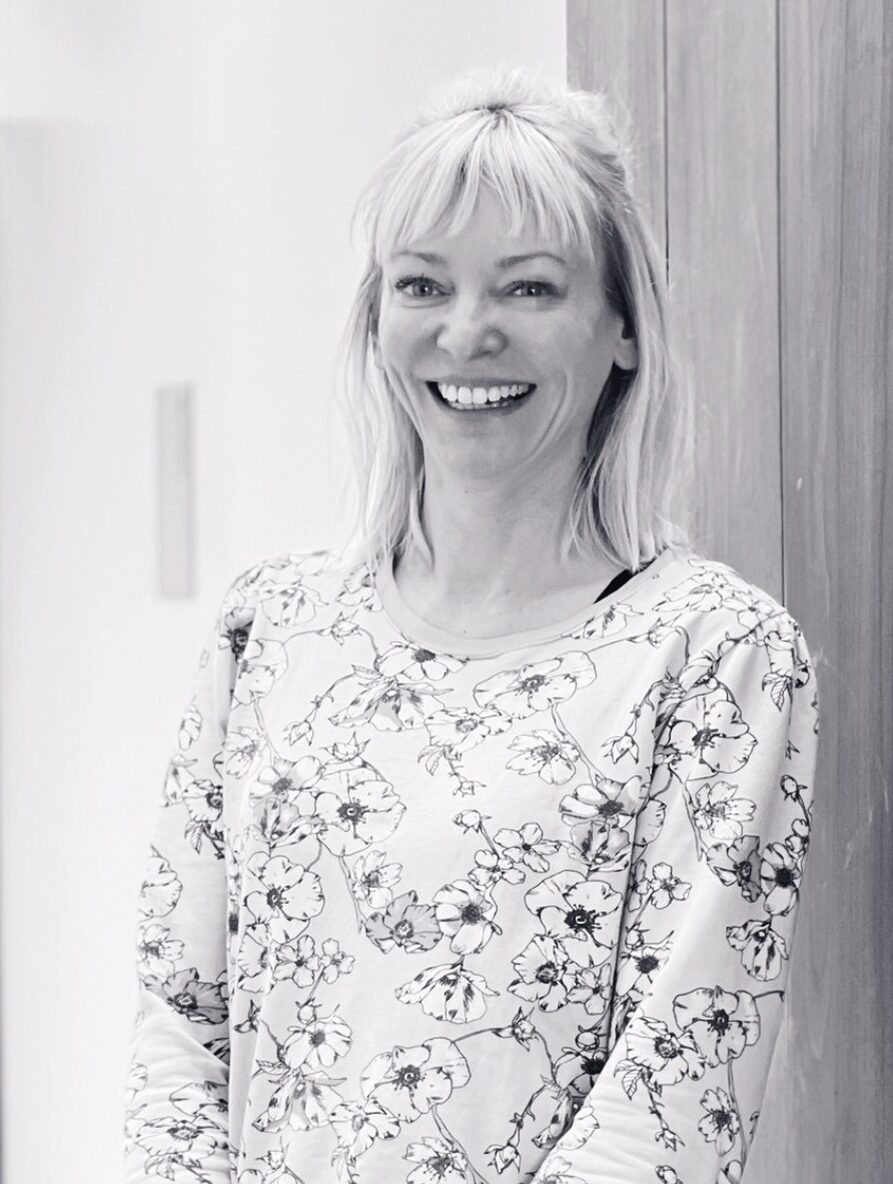 Alexandra Schluter
Receptionist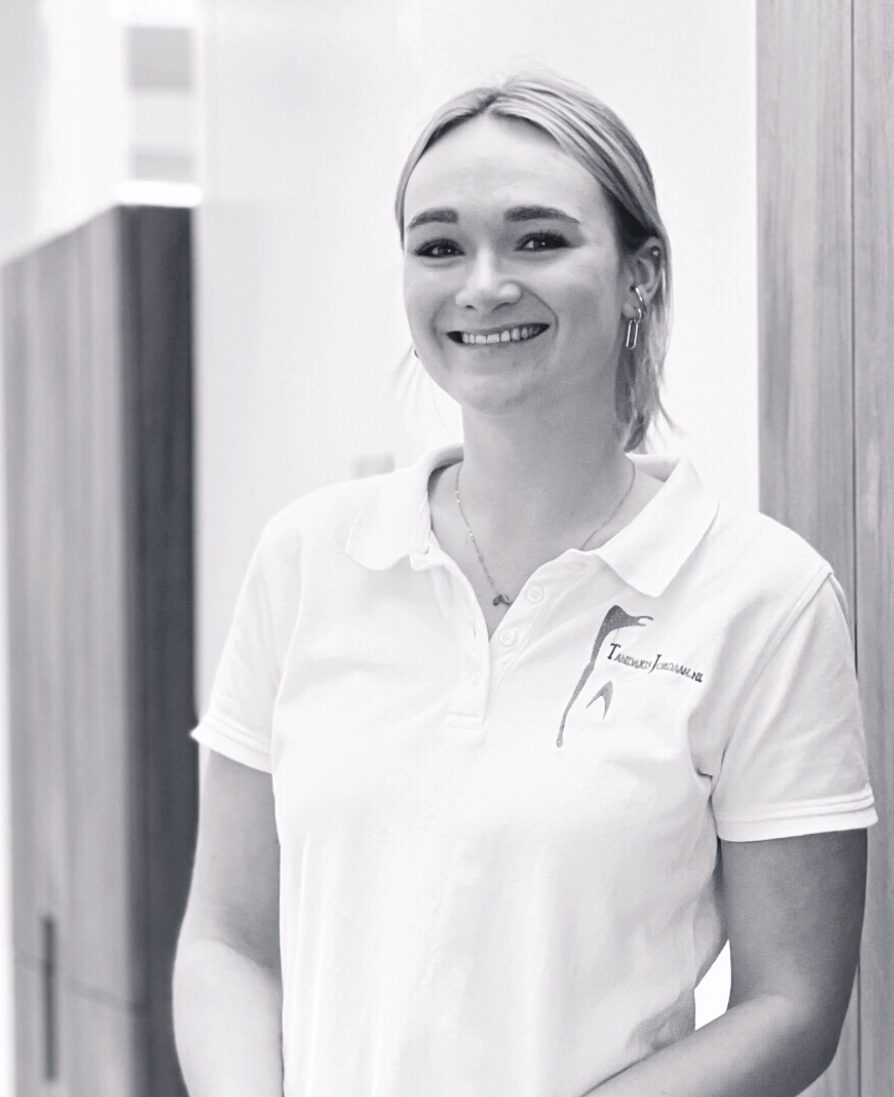 Courtney Willems
Dental hygienist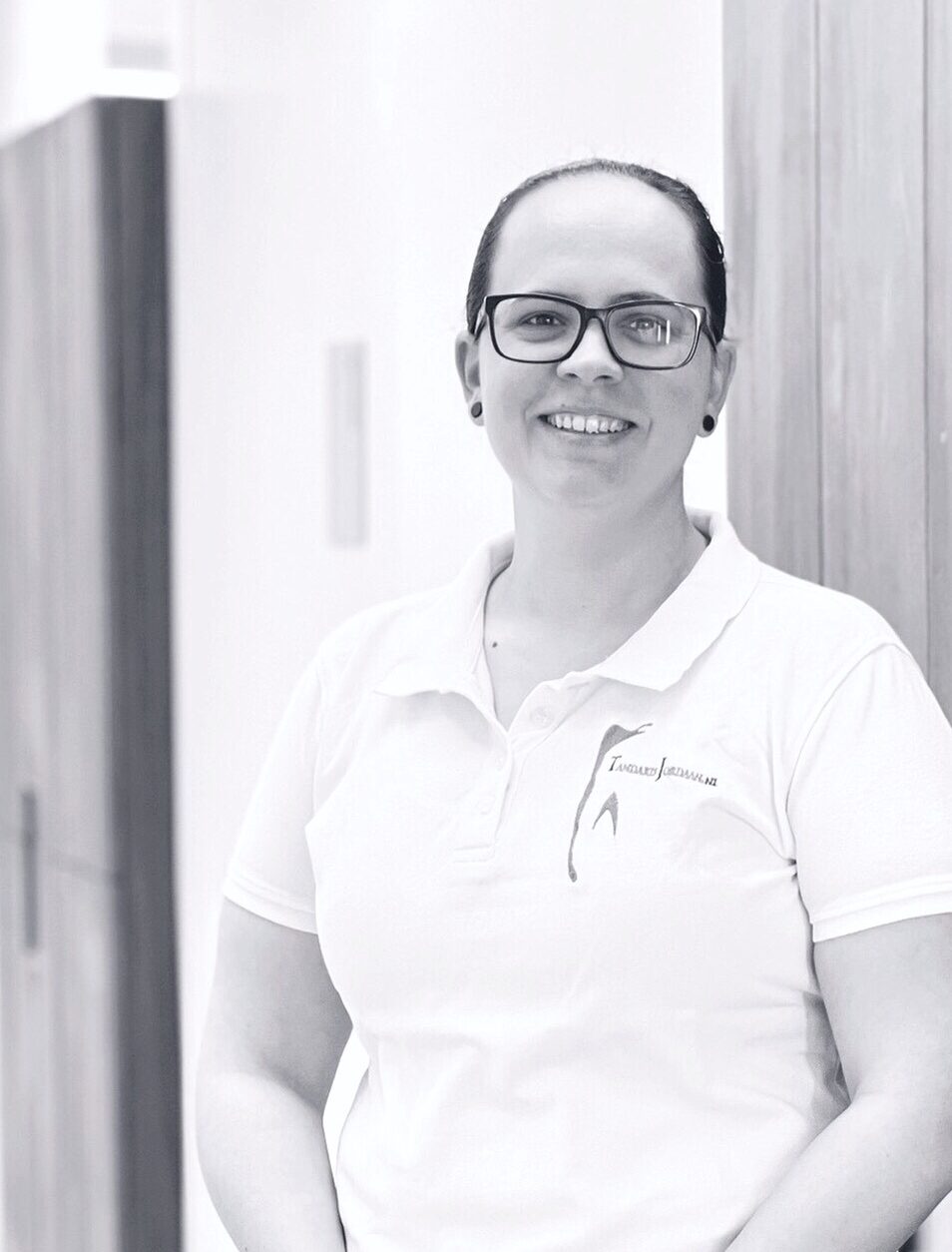 Timea Kern
Dental technician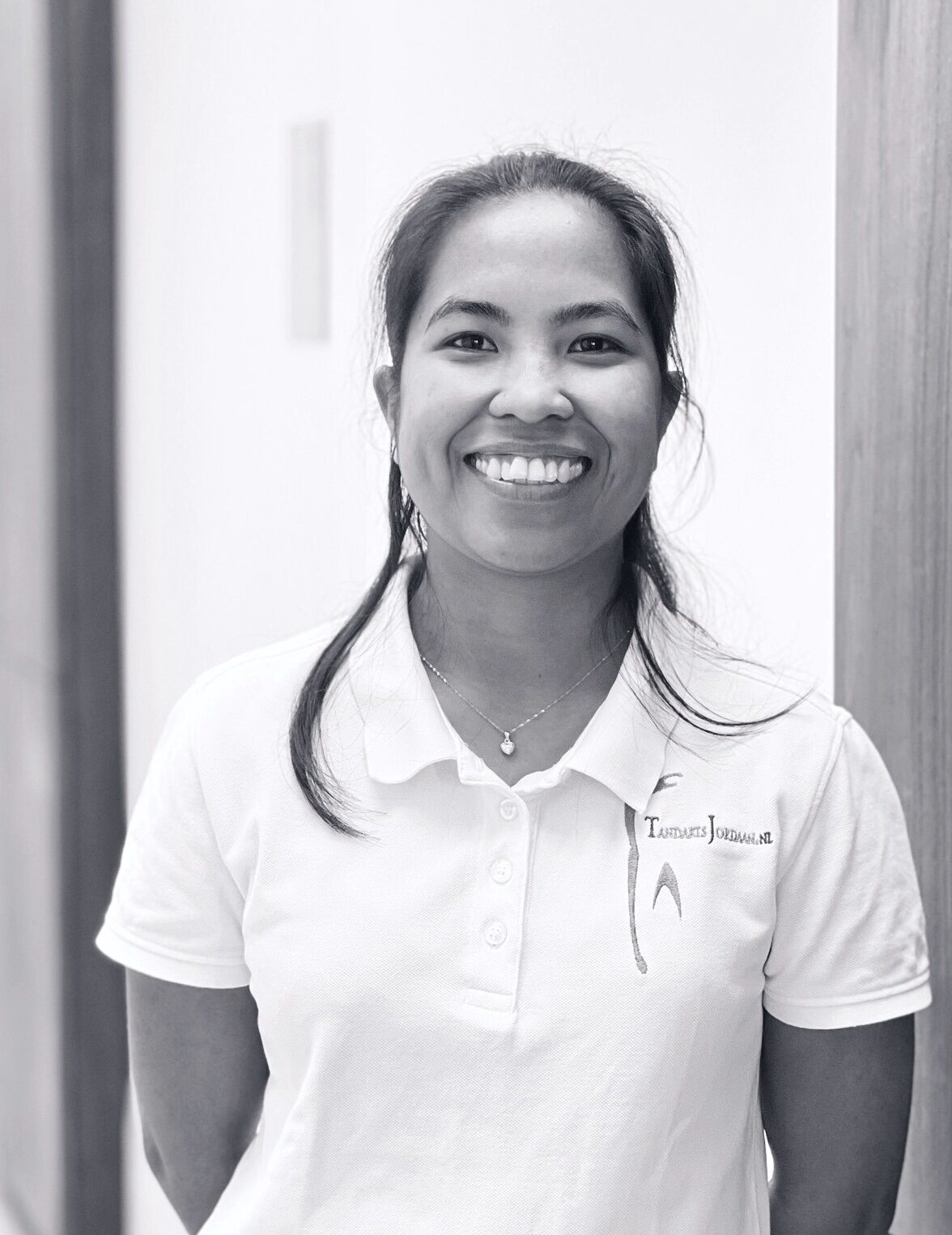 Jomerlea Saculles
Dental assistant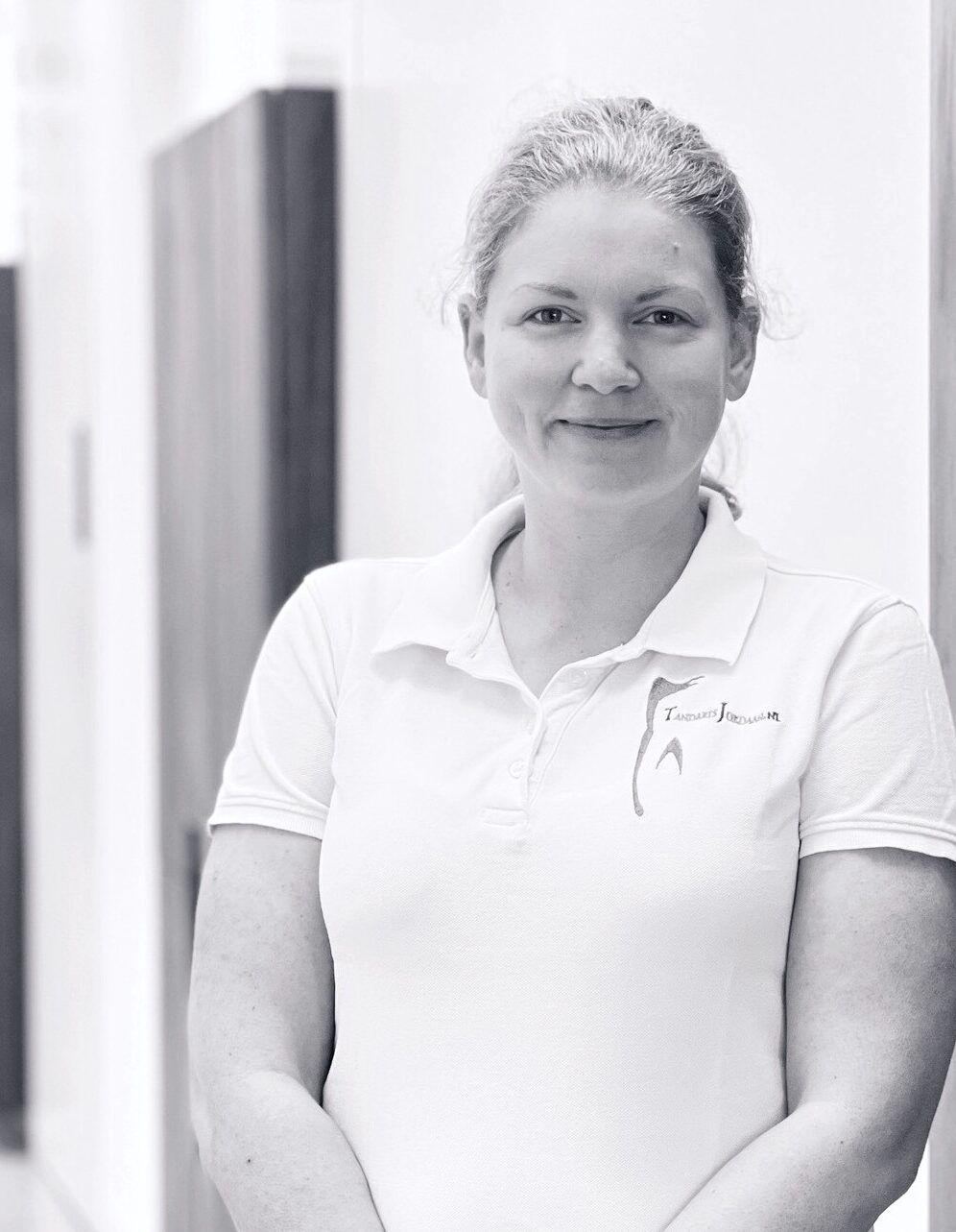 Fruszina Kern - Tamassy
Periodontitis assistant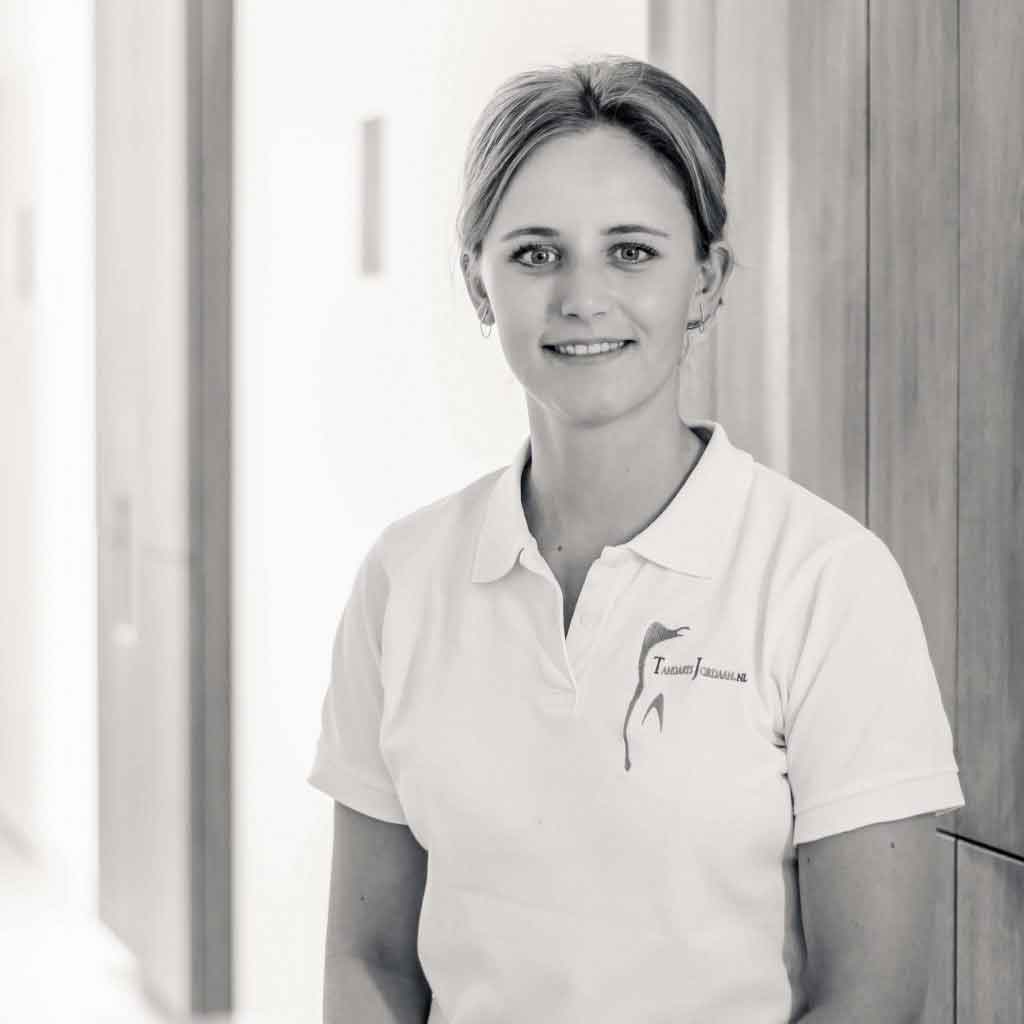 Rozemarijn Maat
Oral hygienist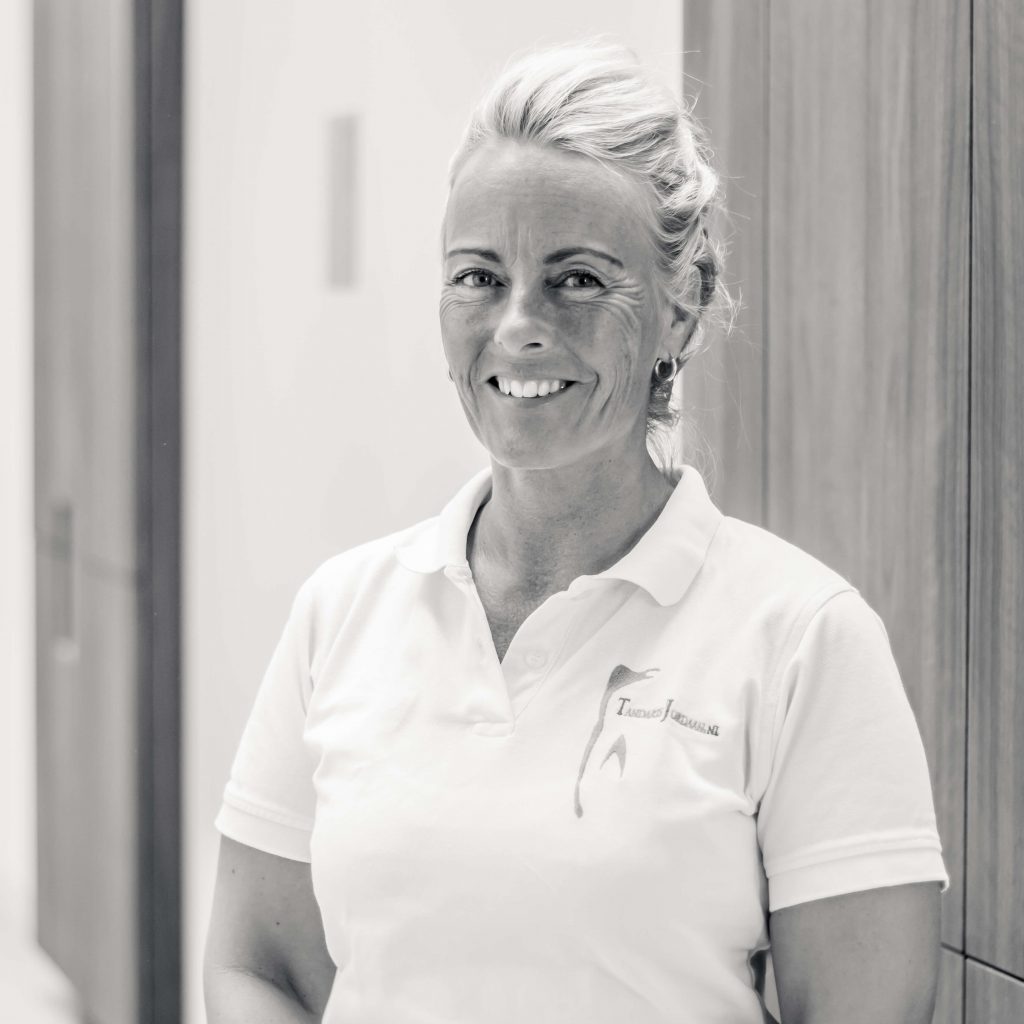 Patricia Kneppers
Prevention assistant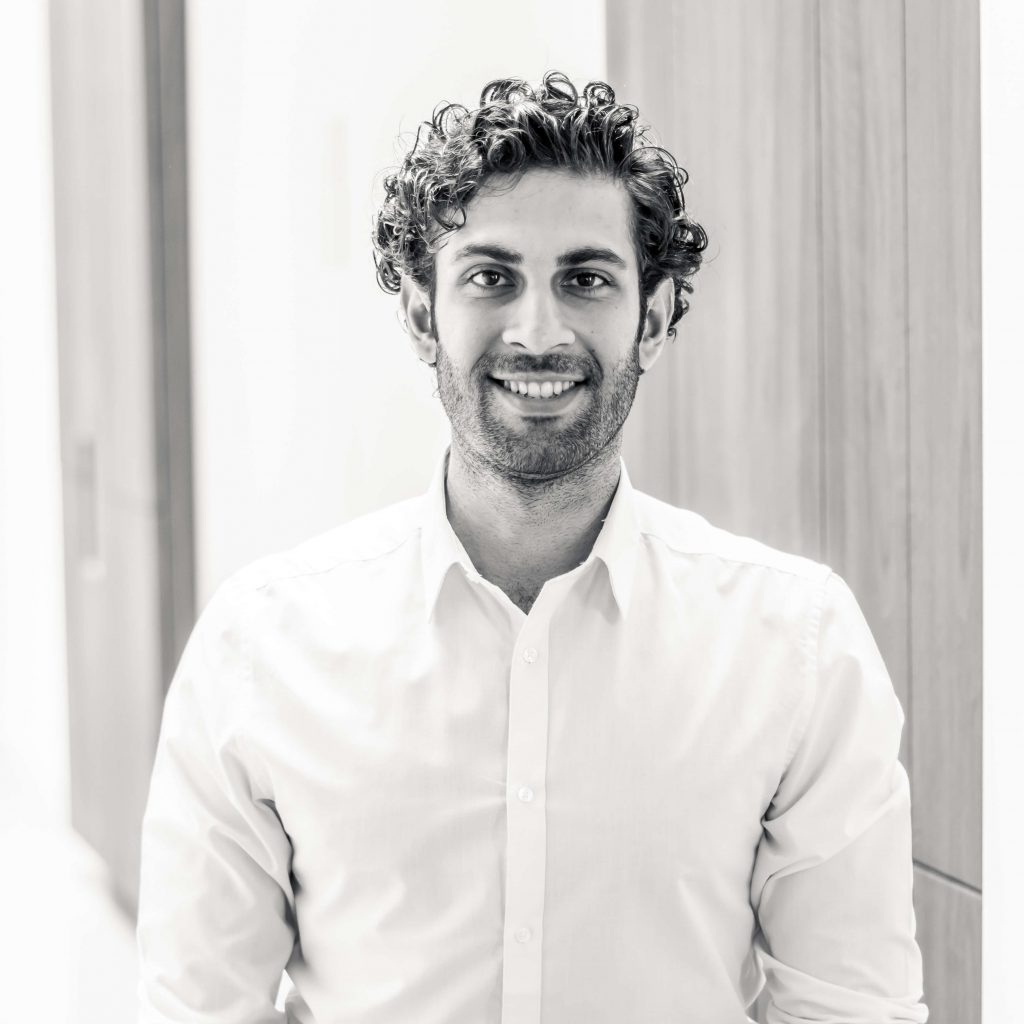 Mgrdich Amroian
Dental technician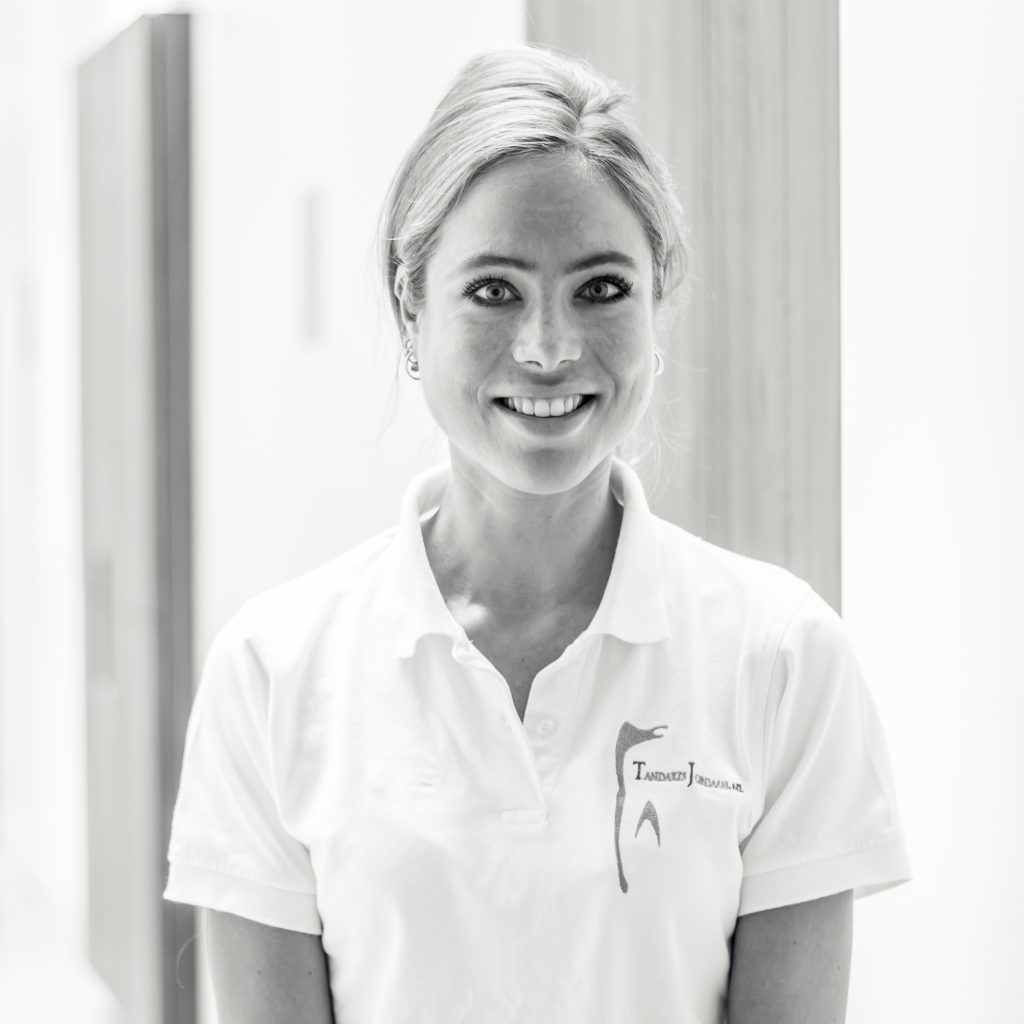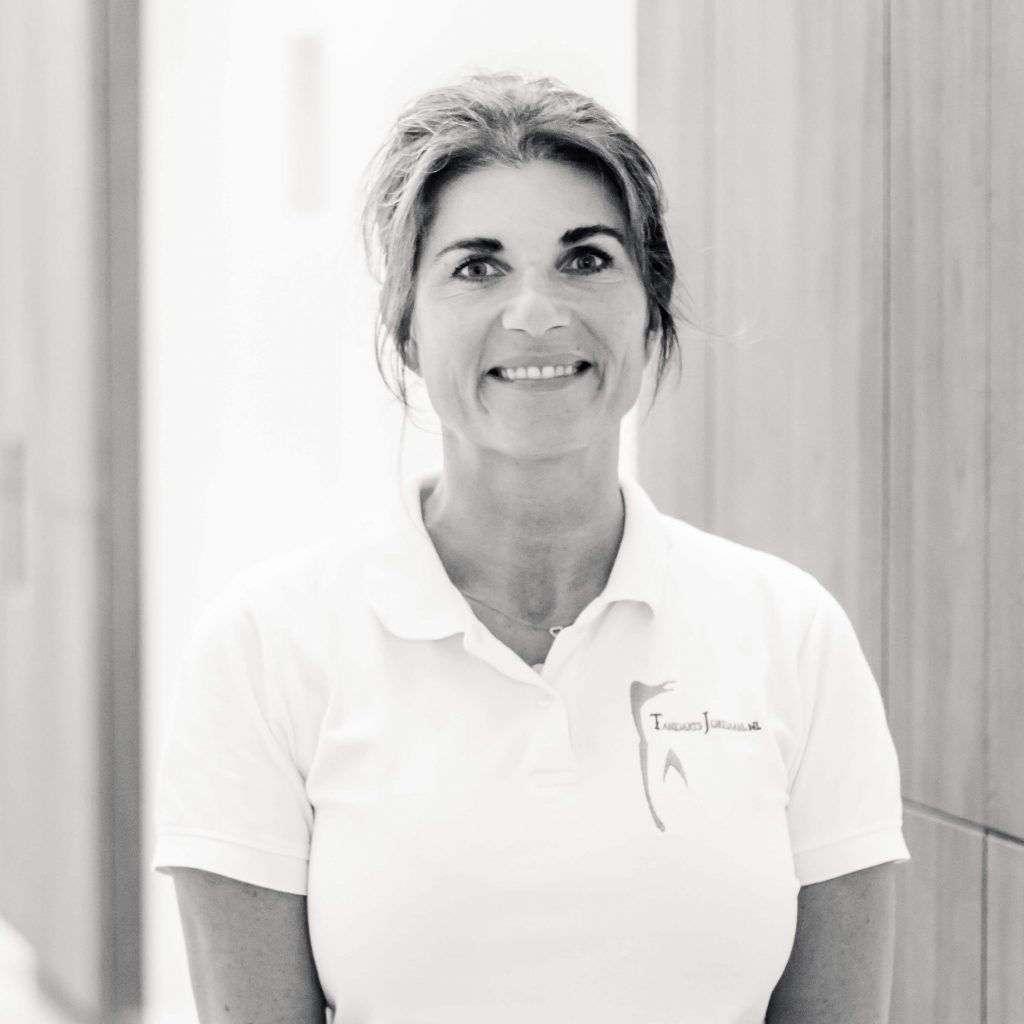 Linda van Zoomeren
Housekeeper
Jolanda van den Bosch
Prevention assistant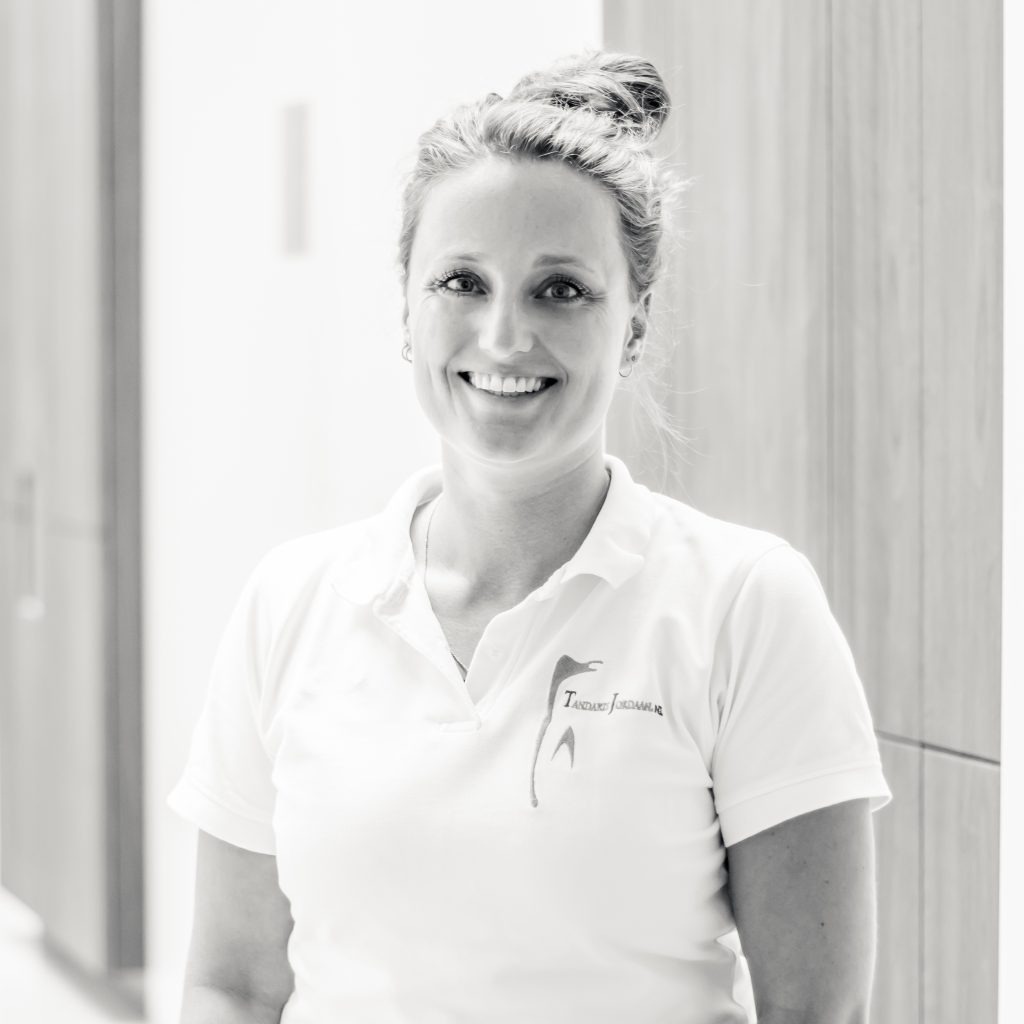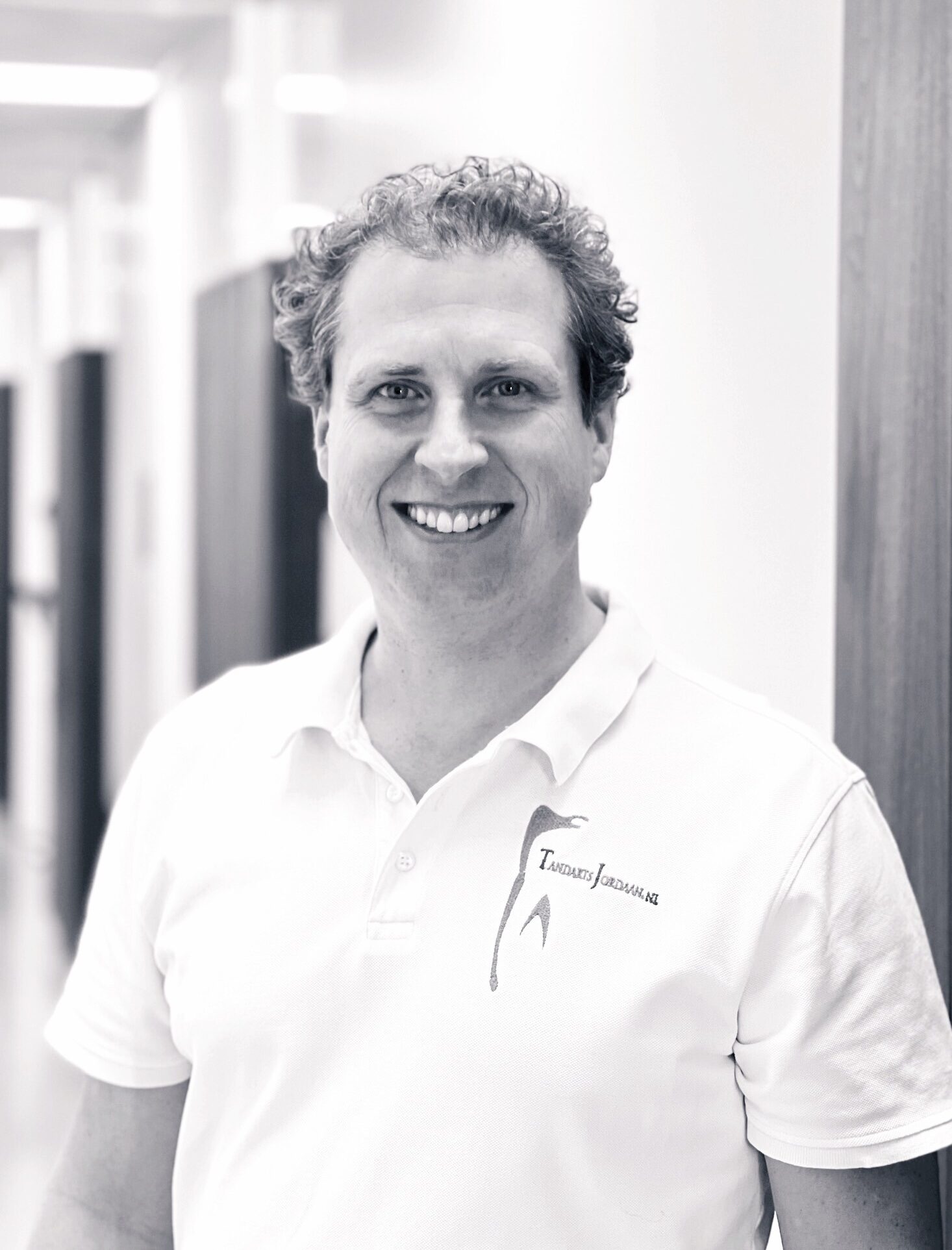 Maarten Vaartjes
Dentist and owner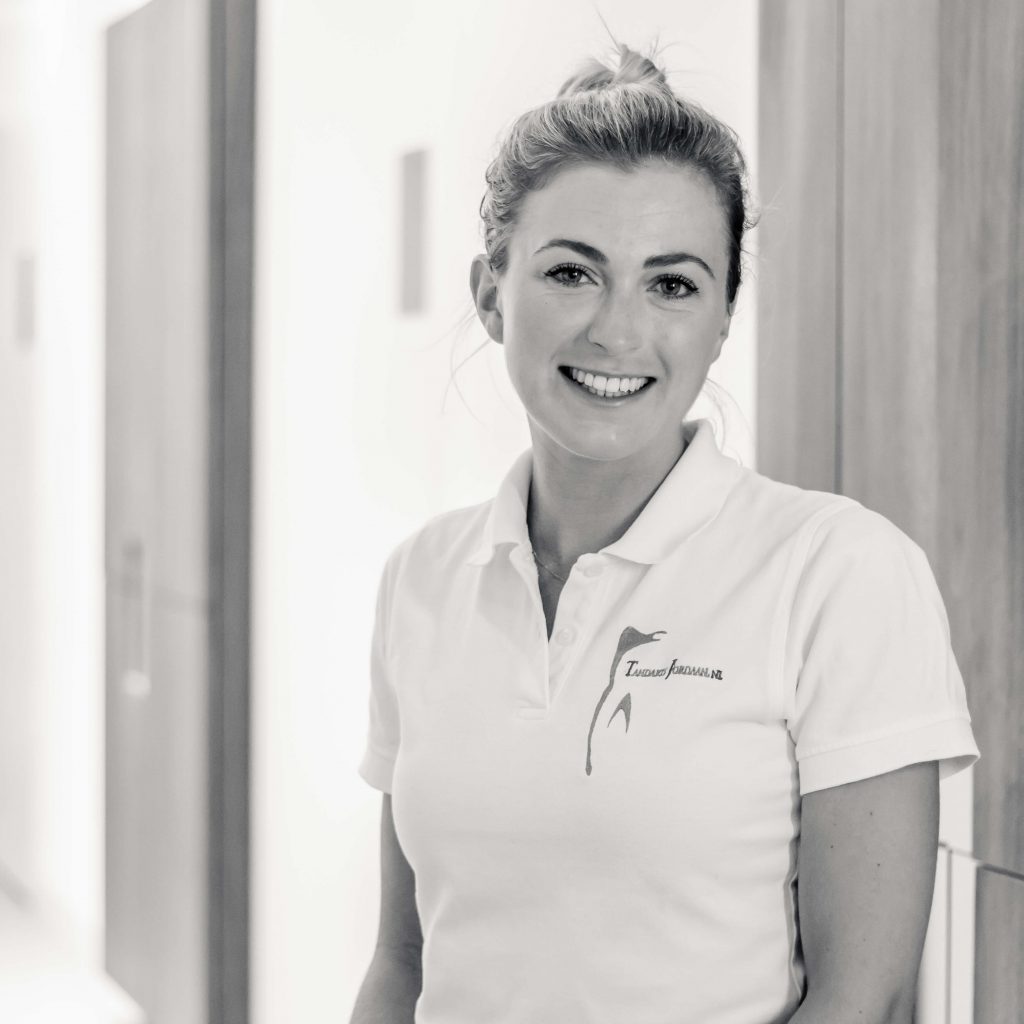 Anouk van der Meij
Dentist for orthodontics